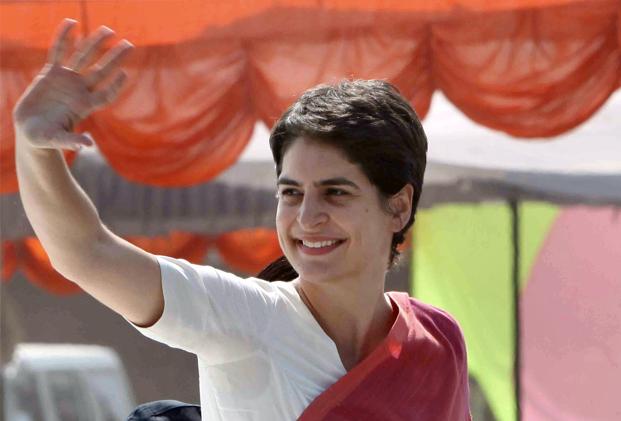 The Congress on Wednesday appointed Priyanka Gandhi as the party general secretary for UP East.
After the appointment, Priyanka will take care of party's affairs in eastern Uttar Pradesh. The appointment comes ahead of the 2019 Lok Sabha elections.
She will take charge of her new responsibility from first week of February. The party has also appointed Jyotiraditya Scindia as AICC general secretary for UP West.
Reacting to Priyanka Gandhi's appointment, Congress president Rahul Gandhi said that the party has taken a big decision and he had full faith in her capabilities.
When asked whether Priyanka will also contest elections, Rahul said that the final decsion in this reagrded will taken by her sister.
"Hon'ble Congress President has appointed Smt Priyanka Gandhi Vadra as AICC General Secretary for Uttar Pradesh East. She will be taking charge with effect on first week of February 2019," a press release issued by the Congress party said.
" Hon'ble Congress President has also appointed Shri Jyotiraditya Scindia as AICC General secretary for Uttar Pradesh West with immediate effect," it added.
Responding to Priyanka's appointment, senior party leader Moti lal Vora said that the move will strengthen the party in Uttar Pradesh.
Hailing the decision, senior UP Congress leader Pramod Tiwari said that people see the shades of Indira Gandhi in Priyanka Gandhi and her appointment as Congress general secretary will boost the party's prospects in 2019 Lok Sabha elections.
Taking a jibe at the Congress party for appointing Priyanka Gandhi as general secretary, BJP spokesperson Sambit Patra said that the decision once again underlined the fact that the Congress was a party of a family.
He also alleged that Priyanka Gandhi has been brought into active politics because Rahul Gandhi has proved to be a failure.
Robert Vadra, husband of Priyanka Gandhi, congratulated her for the new responsibility and said that he will always be on her side.
"Congratulations P... always by your side in every phase of your life. Give it your best," Robert Vadra said in a Facebook post.