Follow us on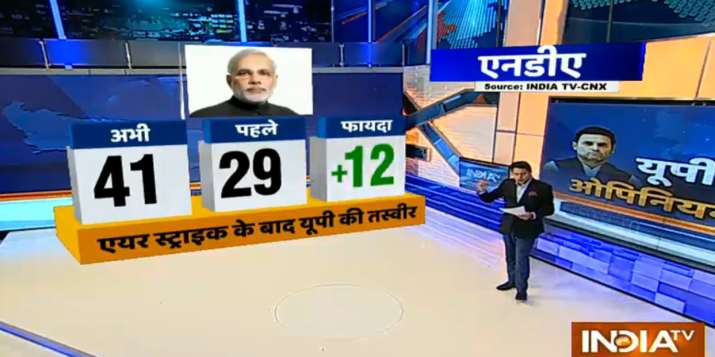 BJP-led National Democratic Alliance is projected to win 41 out of a total of 80 Lok Sabha seats from Uttar Pradesh, while the Mahagathbandhan of Samajwadi Party, Bahujan Samaj Party and Ajit Singh' RLD is projected to win only 35 LS seats, says India TV-CNX survey conducted after the air strike by Indian Air Force in Pakistan.
CNX had earlier conducted a survey in February prior to Pulwama attack in which the SP-BJP Mahagathbandhan was projected to win 49 LS seats, while at that time, NDA was trailing in the projections with 29 seats. This translates into a gain of 12 seats for NDA post-air strike, while SP-BJP alliance's tally may witness a loss of 14 seats, says the survey. The results of the survey were telecast this evening on India TV. 
Congress and its allies may register a gain of two seats, and may win four LS seats in UP, says the survey. 
Also read | 62% say war is only solution Indo-Pak problem: India TV-CNX Opinion Poll
The voting share percentage post-air strike shows, BJP projected to get 49.95 pc votes, SP may get 17 pc and BSP 18.03 pc votes, Congress may get 11.37 pc votes, according to the survey. 
Party-wise seat projections post-air strike show: BJP may win 40 LS seats, BSP may win 16, SP 18, Congress four, and one each by Ajit Singh's RLD and Apna Dal. 
Also read | 42% voters in UP think economic issues bigger factor than IAF strike
Asked whether they support opposition's demand for evidence of IAF strike against Jaish camp inside Pakistan, 56.91 pc said "No", 22 pc said "Yes", and 21.09 pc said 'Can't Say".
On the question how the recent air strikes by India against Pakistan will affect his or her voting preference, 32.05 pc respondents said "A lot", 40.65 pc said "Not very much" and remaining 27.30 pc said "Can't Say".
Asked whether war is the only solution to India-Pakistan problem, 62.82 pc respondents replied 'Yes', 25.79 pc said 'No, but hit more terror camps' and 11.39 pc said "Can't Say".
Also read | India TV-CNX Opinion Poll: People in UP satisfied with Modi Govt's response to Pulwama terror attack | Highlights
On the question which government is more sincere in dealing with terrorism, 48.99 pc respondents replied 'Modi Govt', 11.62 pc said "Manmohan Singh Govt', 10.48 pc said "Both", 20.81 pc said "Neither", and 8.10 pc said "Can't Say". 
Asked who should get credit for Wing Commander Abhinandan's return from Pakistan, 75.41 pc said "Modi govt", 10.12 pc said "International Community", 8.60 pc said "Pakistan Govt" and 5.87 pc had no opinion. 
A whopping 91.78 pc respondents said Abhinandan's release within two days was a big diplomatic victory for India, while 2.25 pc said "No". The remaining 5.97 pc had no opinion. 
CNX said, the survey was conducted among 5,400 voters between March 1 and 4 in 27 Lok Sabha constituencies covering 81 assembly constituencies of UP. The respondents included 2923 males and 2477 females. 
Also read | IAF airstrike: Politics turns ugly, IAF Chief responds saying we hit desired target
​