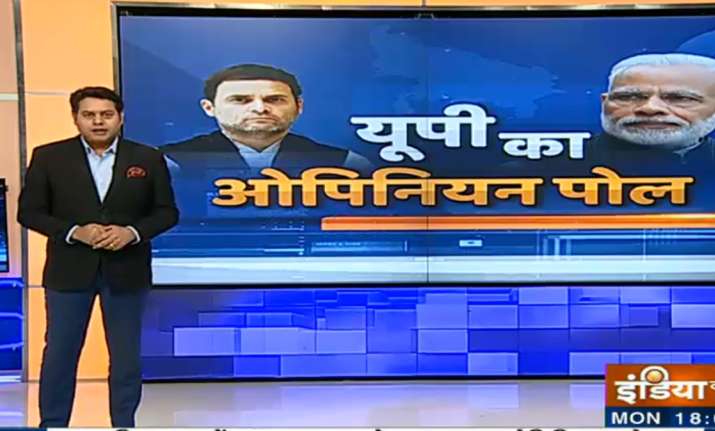 The airstrike carried out by the Indian Air Force in the aftermath of Pulwama terror attack has stirred the emotions across the country. The deadly attack on CRPF convoy, IAF strike on Jaish-e-Mohammed terror camps, Pakistan's failed counter strike, MiG-21 pilot Abhinandan's detention and dramatic release united the nation in despair, prayer and celebrations. 
But has it also united the voters towards one party? In the first opinion since the Pulwama terror attack and IAF strike, India TV and CNX - a Delhi based research and survey agency - have tried to gauge the mood of the nation through a look at voters' mood in Uttar Pradesh.
Watch India TV-CNX Opinion Poll: 
​
06:32 pm: As per last India TV-CNX Opionion Poll, BJP has made significant stride in the post IAF airstrike scenario. If Lok Sabha elections 2019 were held today, the BJP was expected to gain 12 seats in Uttar Pradesh and end at winning 41 seats out of total 80. The BJP's vote share stands at 40.95% in the latest India TV-CNX Opinion Poll. In 2014 the BJP's vote share was 42.63 per cent and the party had bagged a whopping 73 seats paving the way for Modi-led government.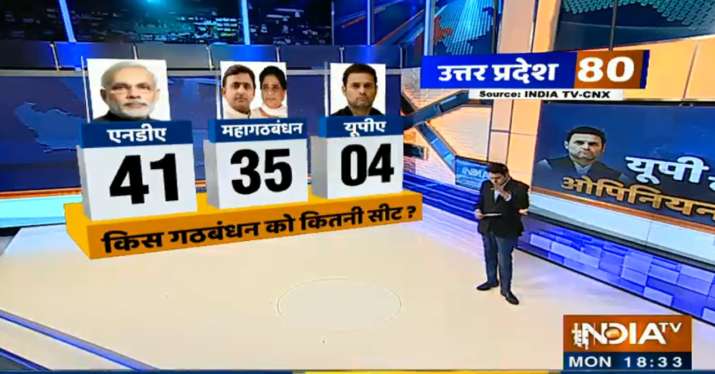 The Mahagathbandhan that was supposed to gain 49 seats in India TV-CNX's previous opinion poll loses 14 seats post airstrike scenario and is likely to gain 35 seats. Clearly, the Modi government's head-on fight against the terror camps across the Line of Control has helped its fortunes in Uttar Pradesh. 
BJP projected to gain 12 seats in UP post IAF airstrike: #IndiaTVCNXOpinionPoll | UPA may also gain 2 seats as people's faith in SP-BSP alliance fades away after #PulwamaTerrorAttack pic.twitter.com/zi5W1MaLd4

— India TV (@indiatvnews) March 4, 2019
06:24 pm: An overwhelming majority of 92 per cent people polled by India TV-CNX Opinion Poll said that the release of Wing Commander Abhinandan from Pakistan within 2 days was the big diplomatic victory for India. Only two per cent said no, six per cent said can't say. 
06:24 pm: IndiaTV-CNX Opinion Poll on who should be credited with Wing Commander Abhinandan's return from Pakistan?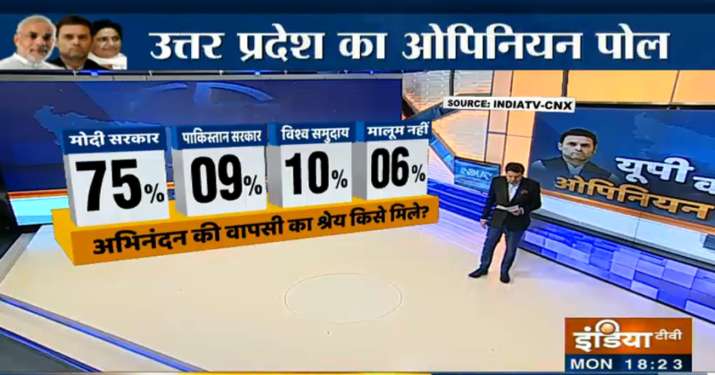 06:23 pm: According to IndiaTV-CNX Opinion Poll, 45.65 per cent respondents thought that Indian defence forces should get the credit for India's non-military preemptive strike in Balakot. Around one-third respondents said that Modi government should be given credit, while 15 per cent thought both deserve accolades for the brave act. 
06:22 pm; IndiaTV-CNX Opinion Poll says that almost half, ie, 48.99 per cent people polled found Modi government more sincere in dealing with terrorism as compared to Manmohan Singh Government, which only 11.62 per cent people said was better at it. Around 10 per cent said that both dealt with terrorism sincerely, while around 20 per cent said neither did. 
06:22 pm: 53 per cent respondents of the IndiaTV-CNX Opinion Poll said that they were satisfied with PM Modi's action against terror after Pulwama attack. Twenty per cent said that the response was bad and 27 per cent had no opinion. 
06:21 pm: India TV-CNX Opinion Poll on should govt be asked to present proof of IAF airstrike: 22 per cent respondents said yes, 57 per cent said no, and 21 per cent gave no opinion.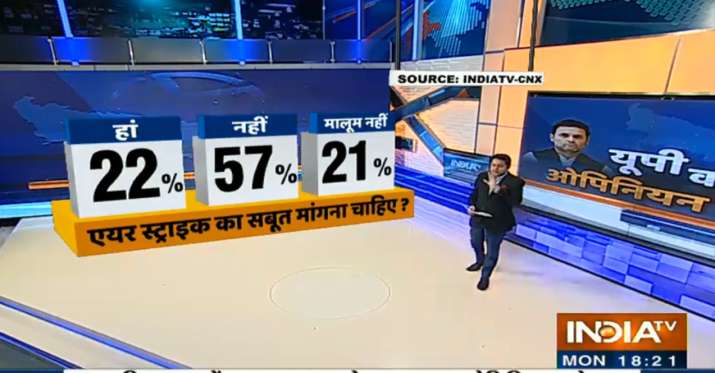 IndiaTV-CNX Opinion Poll: How the survey was conducted
1) The survey was conducted in the residential and business areas of remote and key localities in Uttar Pradesh, including upper middle class colonies to understand the mood of the people after the air strike.
2) A quantitative survey using a structured questionnaire was administered randomly to 10 people in 20 polling stations each in 27 out of 80 Parliamentary Constituencies of the state. 
3) The respondents were selected randomly keeping in view the demographic, professional and migration dimensions. On the whole, the sample respondents came from all walks of life.
4) Number of male respondents: 2923. Number of female respondents: 2477. Date of the survey conducted: March 1-4, 2019. 
5) The results are subject to a margin of error 2.5 per cent.