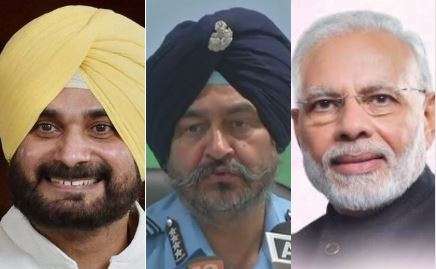 The Chief of Indian Air Force BS Dhanoa has refuted claims that IAF airstrike across the LoC on February 26 missed the target. In a press conference held in Coimbatore, Dhanoa said, "If we plan to hit the target, we hit the target," a confident looking Dhanoa said. "If we had dropped bombs in the jungle, then no need for him [Pakistan] to respond."
Commenting on the number of terrorists dead in IAF airstrike, Dhanoa said "We don't count casualties. "IAF is not in a postilion to clarify the number of casualties. The government will clarify that. We don't count human casualties, we count what targets we have hit or not."
Sidhu asks for numbers:
Earlier, Congress Party's Navjot Singh Sidhu Monday questioned India's airstrike in Pakistan. "300 terrorist dead, Yes or No? What was the purpose then? Were you uprooting terrorist or trees? Was it an election gimmick?" Sidhu, who is also a deputy chief minister in Punjab, asked.
Sidhu's comment stoked a huge backlash as other politicians also jumped in the cross-questioning.
300 terrorist dead, Yes or No?

What was the purpose then? Were you uprooting terrorist or trees? Was it an election gimmick?

Deceit possesses our land in guise of fighting a foreign enemy.

Stop politicising the army, it is as sacred as the state.

ऊंची दुकान फीका पकवान| pic.twitter.com/HiPILADIuW

— Navjot Singh Sidhu (@sherryontopp) March 4, 2019
Senior Congress leader Kapil Sibal also questioned the government on IAF strike and asked PM Modi to respond.
"PM must speak on reports by int'l media that say hardly anyone died there (in an airstrike in Balakot). I want to ask PM, 'Is int'l media in support of Pak?' When int'l media speaks against Pak, you feel elated. When they ask questions, it's asking because it supports Pak?" questioned Sibal.
Amit Shah says 250 terrorist dead:
Earlier, on Sunday the Bharatiya Janata Party (BJP) chief Amit Shah claimed that over 250 terrorists were killed in the airstrike carried out by the IAF on the "13th day of dastardly Pulwama Terror attack."
"After Pulwama attack, everyone thought surgical strike can't be done this time…now what will happen? Prime Minister Narendra Modi led central government did an airstrike on the 13th day [Of Pulwama attack] and killed more than 250 terrorists without any harm on our side," Shah said.
Senior Congress leader P Chidambaram also jumped in the debate saying, "As a proud citizen of the country, I'm ready to believe our government. But, if we want that the world also believes us then the government must act on that direction and stop criticising the Opposition," he said in another tweet. 
India's Air Chief also pointed out that Pakistan would not have reacted if we would have only hit the jungles.
Air Chief Marshal BS Dhanoa on air strikes: The target has been clearly amplified by FS in his statement. If we plan to hit the target, we hit the target, otherwise why would he (Pak PM) have responded, if we dropped bombs in the jungles why would he respond. pic.twitter.com/X4Y0Jdopr6

— ANI (@ANI) March 4, 2019
BJP targets gun on Opposition:
That matter did not stop here. BJP leader Mukhtar Abbas Naqvi blamed Congress for siding with Pakistan.  "On one hand Pakistan is questioning IAF airstrke on the other the Congress Party is asking for proof," Naqvi said.
Union Minister Mukhtar Abbas Naqvi: Chot jo hai vo aatankawaadi aur Pakistan ko lagi hai, cheekh Congress ki nikal rahi hai. Ek taraf Pakistan sawaal puuch raha hai, dusri taraf Congress saboot maang rahi hai. Ye Congress aur Pakistan ki jo jugalbandi hai vo ajeeb baat hai. pic.twitter.com/GoqOO5InxU

— ANI (@ANI) March 4, 2019
TMC's Derek O'Brien's scathing attack:
Trinamool Congress leader Derek O'Brien is never short of words. Derek O'Brien also alleged that the Indian soldiers were sent to "die without a plan" and the BJP was using the precious pictures of martyred jawans to use as a backdrop for a political rally.
Derek O'Brien, TMC: Mr. Narendra Modi,are you sending our soldiers to die without plan? Or is your purpose is only to win polls? Mr. Modi, you shamelessly reduce precious pictures of martyred jawans to use as a backdrop to your political rally. Mr. Modi, you are quite shameless. pic.twitter.com/G95ItypcOF

— ANI (@ANI) March 4, 2019
Hardeep Singh Puri: Some illiterate people don't trust country
Union Min Hardeep Puri on opposition raising questions on #AirStrike in Balakot: Airstrike was on facilities of leadership who held responsibility for #PulwamaAttack. There isn't shortage of illiterate ppl who don't trust the country, but majority are proud of the nation. (03.03) pic.twitter.com/KvQV4pdfFd

— ANI (@ANI) March 4, 2019