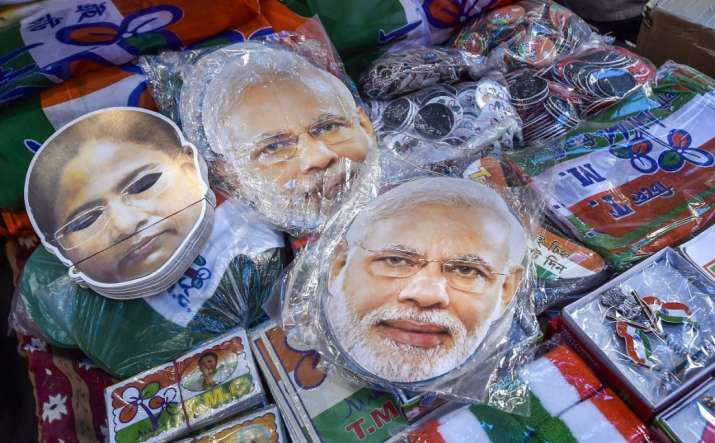 Hello friends. Election season has now started. It has started with a bang. So I am here. I am here to talk to you. Being a journalist in this election festival, I am roaming here and there, collecting information, input from aam janata. I want to share my thoughts.
A few days ago I was in Kolkata – around 1500 kms from the capital Delhi. In a narrow street of Kolkata, a small tea shop was there. It was morning tea-time. A lot of Bengali 'bhadralok' people were sitting there. After the morning walk, it is the standard routine habit of the Bongs to have hot tea.
I sat silently and sipped my tea. I was listening to what they were saying.
Bhardralok A - Have you seen this time on the occasion of Ram Navami how Bengali people celebrated Ramapuja?
Bhadralok B - Yes yes, that is really a new phenomenon.
Bhadralok C - But BJP is not understanding, this is Bengal. This is not Hindi heartland. This is Mamata land.
Bhadralok A - You have to accept one thing. Mamata is a bygone story. What has she done for Bengal? Now it is Modi. Narendra Modi is the big bang.
Bengali people also candidly claimed that Modi is coming back after this.
Suddenly the atmosphere has changed peace of dialogue ended and major fighting started. Tea stall owner Haradhan Babu intervened and said, please don't fight like this. Rather one more tea for all is needed.
Is Bengal Changing?
The DNA of Bengali was left radical and liberal, Kolkata is a city of Indian Renaissance which took place in the 19th century. But now Bengal's economy is lamentable. Mamata brought Paribartan (Change). She ousted prolonged Left Communist rule from Bengal. But under the leadership of Narendra Modi, BJP wants another Paribartan in Bengal now.
Dear friends dear my readers you can stop me here and ask me why I'm talking so much on Bengal?
I am a non-resident Bengali. I have been living in Delhi for over 30 years, but that is not the reason. In this election, BJP as a pan-Indian party is giving massive importance to Bengal. BJP's contingency strategy. If BJP gets less number in Uttar Pradesh and broadly in the Hindi heartlands, they may compensate these numbers from Bengal, Odisha and North East.
I recall when Amit Shah became the party president, he announced the party's pan Indian growth strategy. Hindi heartland is the base area of BJP but Bengal, Odisha and North East is the new base area. BJP has to grow beyond the so-called cow belt.
West Bengal has 42 Lok Sabha seats. TMC has now 32 MPs, Congress 6 and CPM 2, BJP 2.
Also read | West Bengal performed poorly in almost all governance issues: Survey
BJP has become the main opposition now. Congress and Left both the parties have fragmented virtually into non-existence. BJP has taken the space of these two anti-BJP parties. Now come to TMC. Mamata Banerjee was the Bengali Tigress but now after eight years of her rule anti-incumbency is the law of nature. So in Bengal, apart from the Hindu-Muslim polarisation, political polarisation between Mamata and BJP is also very strong.
I am not saying Mamata land will be suddenly 100 per cent Modi land. I think, still, Mamata will remain the main determinant in Bengal. She will remain the no.1, but BJP may increase their numbers in Bengal. The main question is how many seats they can increase.
For BJP's victory, the pre-conditions are ready. The infrastructure is ready. The past vote share of BJP in the state is 17.2%. It should increase but the percentage of the vote must translate into seats. We can't forget that in the last election of 2014 in UP, BSP became the third party according to the percentage of vote but it could not get a single seat.
Two factors are worth understanding. One, in order to get a large number of seats of the stage, the BJP would have to significantly increase its vote share from 2014 levels, and second, BJP's growth in Bengal now has been at the cost of Communists and Congress. In 2009, Left and BJP's total vote share was 47% on 42 seats approximately and in 2014 it was 47.8%. In 2014, it shifted to BJP more. In the last panchayat election, the BJP became the second largest party in the state, until 2016 it was the Left.
Also read | Cash remains king for election campaign merchandise in Bengal
TMC vote share increased from 21% in 2004, when it won just one Lok Sabha seat, to 39% in 2014. This increased to 45% in the 2016 elections. If the TMC is able to retain this kind of a vote share, it might be difficult for the BJP to increase its seat tally.
BJP's politics in Bengal is vibrant now. The issue of Bangladeshi infiltration, Muslim appeasement by Mamata, unemployment and the lack of development are the main issues.
BJP in Bengal has a peculiar problem of leadership too. Although Dr Shyamprasad Mukharjee was the founder of Jana Sangha, but today in West Bengal there is no BJP face of leadership, the organisational capability is also weak. Can Modi's rallies and his speeches motivate the Bengali voters to cast their votes in the favour of BJP?
Lastly, political violence is a very common phenomenon in Bengal. In the first phase even in the second phase, there was violence, the allegation of rigging. Can BJP combat the hegemony of Police and lumpen goons, which has become the Bengal political culture?
Politics is always an art of possibility. Let's see, the future will determine what the future will be.
Thank you. Coming soon with another state next week.
Also read | BJP demands re-polling in 297 West Bengal booths