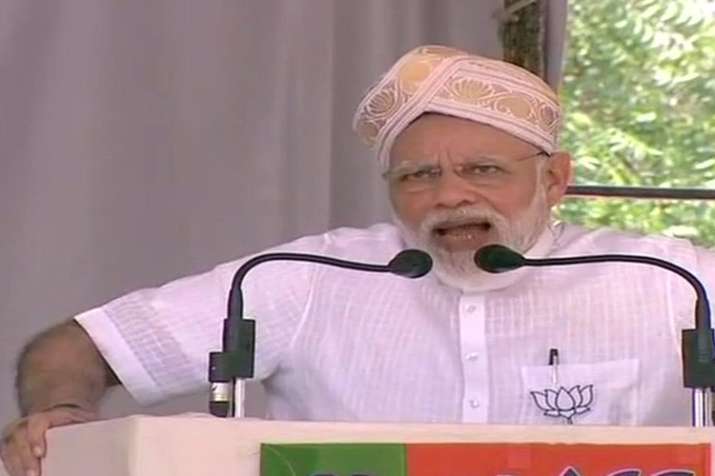 Prime Minister Narendra Modi started the third round of campaigning for upcoming Karnataka Assembly elections addressing a series of rallies. Continuing his aggressive targeting of the Congress and its President Rahul Gandhi, PM Modi said that it was evident from the crowd that Karnataka wants the Congress government out. 
Addressing the first of his three rallies scheduled for Thursday in Kalaburagi, PM Modi attacked the Congress for raising questions over the surgical strikes conducted by Indian troops across the Line of Control (LoC) on the Pakistan terror camps in September 2016.
Referring to Congress leader Sandeep Dikshit's remark in which he compared Army Chief General Bipin Rawat as 'sadak ka gunda' (roadside rowdy), the prime minister said that the Congress has a history of disrespecting the defence forces.
Karnataka Assembly Elections 2018: Full Coverage
"After surgical strikes, our Army Chief was called sadak ka gunda by one of their leaders. I want to ask you, is this way to refer to our brave soldiers goons. When our soldiers conducted the surgical strikes, even the media of that country (Pakistan) reported that bodies of dead terrorists had to be carried in trucksm but Congress demanded proof from us," PM Modi said. 
"The Congress party has a long history of disrespecting defence forces and their leaders. From Field Marshal Cariappa and General Thimayya to the Army Chief who approved the surgical strikes...they never forget to humiliate our brave men," he added.
Taking on Congress president Rahul Gandhi over his midnight candle light vigil at India Gate last month in protest against Kathua and Unnao rape cases, PM Modi questioned the Congress' selective outrage.
"Where was this outrage when a Dalit girl was assaulted in Bidar?" he asked.
"This election is not only for throwing out this government but for changing the fate of youth, women and farmers of Karnataka. When you go out to vote on 12 May, keep the better future of Karnataka in mind and vote for BJP," PM Modi said. 
Watch: Congress has a habit of insulting our brave soldiers, says PM Modi in Karnataka