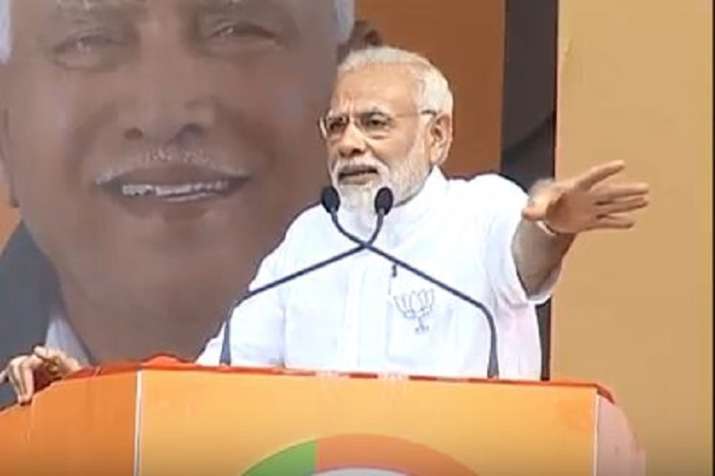 During the third phase of campaigning for upcoming Karnataka Assembly elections 2018, Prime Minister Narendra Modi addressed three rallies on Thursday. Continuing his attack on the Congress government in the state, PM Modi cornered it over several issues.
Addressing the first rally of the day in Kalaburagi, PM Modi took a sharp swipe at the Congress and its president Rahul Gandhi for 'disrespecting' the brave soldiers by demanding evidence of the surgical strikes that Indian troops carried out against Pakistan terror camps across the Line of Control (LoC). 
"The Congress has no respect for the sacrifices of our soldiers. When our soldiers did surgical strikes, its shameless leaders questioned it by asking for proof of their brave act. They prefer our soldiers going to war with cameras instead of guns," said Modi.
Calling Karnataka a "land of valour", Modi regretted that the Congress had also ill-treated Field Marshal KM Cariappa and General KS Thimayya, who hailed from the state's Kodagu region.
"The Congress had not only ill-treated Cariappa but its Prime Minister Jawaharlal Nehru also kept insulting Thimayya," Modi pointed out.
Highlights of PM Modi's three rallies:
Watch PM Modi's election rally in Bengaluru, Karnataka:
6:19 pm: I assure you that the government in Delhi is there for you all. 
6:15 pm: The Congress party in their last manifesto had promised super speciality hospital in every district, they failed to fulfill the promise. They continue to cheat the people of Karnataka.
6:12 pm: They keep asking 'What work Modi government has done?'  This  is Karnataka's elections... I ask you what have you done in the last five years?
6:10 pm: Congress has adopted a policy of speaking lies repeatedly to tarnish the image of the BJP government. 
5:58 pm: I urge you to vote for the BJP to save the heritage of Bengaluru. Bengaluru, which was earlier a 'City of Lakes', Congress transformed it into a 'City of Burning Lakes' 
5:56 pm: This Congress government is a gold medallist in corruption. You have the opportunity to get rid of it. This government has turned Karnataka into 'ease of doing murder' at a time when the world is speaking high of India for 'ease of doing business'.
5:53 pm: You have got a big opportunity on May 12 to remove this Congress government, don't let this golden chance go waste.
5:52 pm: The Congress government had planned to construct a steel bridge in Bengaluru, but it was actually a 'steal' bridge. However, the people of Bengaluru and BJP workers forced this government to drop the project.
5:51 pm: Pothole-filled roads, traffic jams have killed scores of people. This situation is the 'gift' of Congress' five-year rule.
Bengaluru is admired as a 'Garden City.' But the Karnataka government is wanting to turn this into a garbage city. They are showing no concern for the city's needs : PM Modi #NaavuModiJothe pic.twitter.com/rAajHMTJO2

— BJP (@BJP4India) May 3, 2018
5:45 pm: Bengaluru was known as Silicon Valley, but the Congress government has turned it into 'Sin Valley' in the last five years. 'Garden City' Bengaluru has been transformed into 'Garbage City'. The 'Computer Capital' has sadly become 'Crime Capital' now.
5:42 pm: I know that people of Karnataka are smart and they won't waste their votes by picking the JD(S). Congress fears loss in Karnataka elections, that is why they are spreading lies about hung assembly. BJP will get absolute majority in Karnataka
 5:38 pm: Political pundits and surveys have shown that JD(S) will be a struggling third in the elections.
5:35 pm: It is evident that the BJP will form the government under BS Yeddyurappa after full majority on May 15.
5:31 pm: People in Karnataka have decided to destroy the last bastion of the Congress on May 15, the crowd here and other places that I went to in the last few days is suggesting so. 
5:28 pm: PM Narendra Modi begins his speech in Bengaluru chanting 'Bharat Mata Ki Jai'
5:26 pm: PM Modi arrives at the stage. Minister of Parliamentary Affairs Ananth Kumar, former External Affairs Minister and Karnataka CM SM Krishna and other leaders also present on the stage.
5:24 pm: Prime Minister Narendra is scheduled to address an election rally in Bengaluru (North) shortly.
Watch PM Modi's poll rally in Ballari, Karnataka: 
03:43 pm: Congress government in Karnataka is in 'sleep mode.' They did not spend the funds allocated by Central government for the development of Karnataka : PM
03:34 pm: Congress used to term us as 'Mahila Virodhi'. But see, now we have a Defence Minister who is a woman and she is a member in the Parliament from Karnataka itself: PM
03:33 pm: Our critics used to say we are anti-women, but we appointed Nirmala Sitharaman as defence minister, which shut them up: PM
03:32 pm: We used to categorised as a north India party, a Hindi speaking party but when we appointed a southern man Venkaiah Naidu as Vice President our critics were left speechless: PM
03:30 pm: When Atal Bihari Vajpayee govt had enough votes to choose a President they chose a Muslim - APJ Abdul Kalam, and now again when we had enough votes we chose a Dalit, self-less and self-made man - Ram Nath Kovind: PM
03:27 pm: In the last elections, Congress projected Dalit-leader Mallikarjun Kharge as CM candidate, but once they won the elections he was sidelined: PM
03:24 pm: Congress is anti-minority, anti-Dalit, anti-OBC party. It has been trying to block the constitutional validation of a special body meant for OBC welfare. We wanted OBC Commission to get Constitutional status but the Congress did not let it happen: PM
03:16 pm: When we had got the opportunity to serve people of Karnataka earlier, many development initiatives were undertaken. But sadly, the Congress could not even ensure proper water supply despite the state being rich in water resources: PM 
03:15 pm: When Sonia Gandhi fought and won from Ballari seat, she promised a development package which she qyuickly forgot. But when BJP got a chance to serve Ballari several new development projects were introduced: PM
03:10 pm: In Karnataka, not even a single work is possible without corruption and bribery. Look at rising illegal mining in the state. Congress government in Karnataka could not even frame a strong mining policy: PM 
03:06 pm: Congress has ruined the rich history and legacy of Ballari. By defaming Ballari, they have disrespected the people of this district : PM
03:05 pm: Vested interests are trying to paint Ballari as a region of the criminals and thugs, it's an insult to the locals: PM Modi
03:01 pm: People's excitement proves the last bastion of Congress is set to crumble: PM Modi at Ballari
03:00 pm: PM Modi begins his address at a poll rally in Karnataka's Ballari
PM Modi's public meeting in Kalaburagi
01:19 pm: During last elections, Congress promised they will make Mallikarjun Kharge Ji the Chief Minister. They misled the Dalit community.This is typically how Congress plays politics: PM Modi
01:14 pm: After surgical strikes, one of Congress's senior leaders called our current Army Chief a 'Gunda': PM
01:12 pm: In Yeddyurappa, we have a leader who is devoted to the welfare of farmers. For him, farmer welfare is a top priority : PM
01:11 pm: Congress sat over Swaminathan Commission recommendation to increase MSP for farmers. It's not expected of them to accept this sin but they can at least keep quiet, when our govt has approved its implementation: PM
01:10 pm: The Congress party has a long history of disrespecting defence forces and their leaders. From Field Marshal Cariappa and General Thimayya to the then Army Chief who led the surgical strike: PM 
01:09 pm: It is our government that has made important decisions of MSP : PM Modi 
01:06 pm: Congress deliberately kept the Swaminathan Commission report on hold, says PM Modi
01:05 pm: This area of Kalaburagi is known for 'Dal' cultivation. Our farmers are working hard here and availing of the benefits of the Central Government schemes. However, the Karnataka government is insensitive towards the condition of farmers: PM
01:01 pm: Jawaharlal Nehru insulted Field Marshal Thimaiyya, says PM Modi
01:00 pm: One family of the Congress loses sleep at the mention of Sarder Vallabh Bhai patel's name. It's Congress' nature to disrespect martyrs and freedom fighters: PM
12:58 pm: Congress has no respect for the sacrifices of our soldiers. When our soldiers did surgical strikes, the shameless Congress party questioned the strikes. All they kept asking for proof : PM
12:57 pm: Congress questioned the 2016 'surgical strikes'. if they wanted proof they should have seen the dead bodies in Pakistan: PM Modi
12:53 pm: This election is not only for changing the Congress govt. but for changing the fate of youth, women and farmers of Karnataka. When you go out to vote on 12 May, keep the better future of Karnataka in mind and vote for BJP : PM Modi
12:51 pm: This election is going to decide the future of Karnataka. It is about the safety of women, the wellbeing of farmers : PM
12:49 pm: We have seen the state being ruined for five years and we will no longer allow the state to be ruined further. People are seeing that in all corners of India the Congress is being rejected : PM
10:14 am: PM Modi, who was earlier scheduled to address 15 rallies in the state, will now hold 21 public meetings across the poll-bound state. 
07:38 am: 
PM Narendra Modi will be addressing 21 rallies in Karnataka, 3 of those were held on May 1. He will address 3 more today in Kalaburagi, Ballari & Bengaluru #KarnatakaElections2018(file pic) pic.twitter.com/l2kgN6pKAc

— ANI (@ANI) May 3, 2018
07:34 am: 
PM Shri @narendramodi will address public rallies in Karnataka's Kalaburagi, Ballari and Bengaluru today. Watch LIVE at https://t.co/vpP0MInUi4. Listen LIVE speech by dialing 9345014501. @BJP4Karnataka #NaavuModiJothe pic.twitter.com/4s2WJrR5e6

— BJP (@BJP4India) May 3, 2018
The BJP has also lined up a galaxy of leaders, including Union home minister Rajnath Singh, to address public meetings in the next few days, BJP sources said.
Modi had launched his campaign blitzkrieg on Tuesday with a blistering attack on Rahul Gandhi and the Congress party.
The Prime Minister's next round of campaigning would be at Tumakuru on May 5.
Modi resumed his campaign in the state after a long break yesterday--the last rally he addressed was in February-- as he sought to give a big push to BJP's efforts to return to power in the state for a second time unseating the Congress.
The prime pinister is slated to address another 12 rallies over the next few days before Karnataka goes to poll on May 12.
Union minister for Road Transport, Highways and Shipping Nitin Gadkari will hold public meetings at K R Pete, Srirangapattana, Nippani and Belagavi on May 3.
On May 4, Textiles Minister Smriti Irani will address public meetings at Navalgund, Naragund, Kundagol, Guledagudda in Badami and Hubballi.
Rajnath Singh will address election rallies at Alanda, Afzalpur, Chittapur and Chincholi the next day, the sources said.
BJP's national spokesperson Sambit Patra has also been roped-in for the election battle. He will hold a press conference on May 3, the sources added.