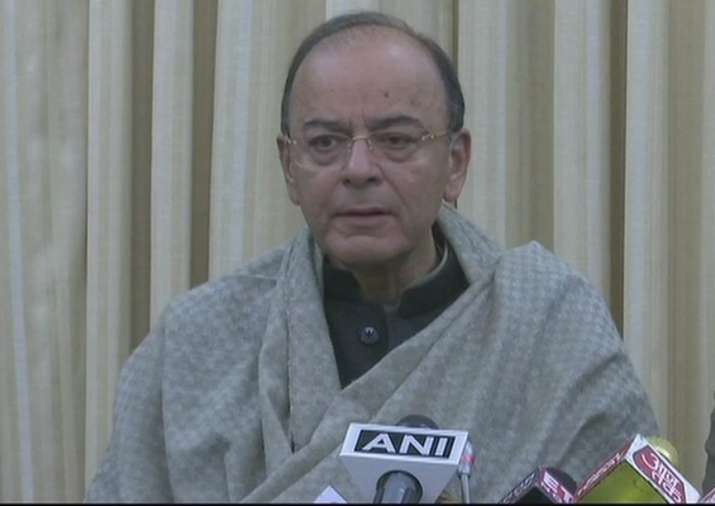 FM Arun Jaitley on Monday termed the meeting of former PM Manmohan Singh and other Congress leaders with Pakistani diplomats as "misadventure". 
"Former PM Manmohan Singh has issued a statement asking PM Modi to apologise for what he said in an election rally with regard to a meeting involving Pakistani delegations. It is surprising that Congress party expect the Prime Minister of India to apologise for it," Jaitley said in a press conference. 
Ruling out an apology by Prime Minister Narendra Modi, as sought by his predecessor, the finance minister launched an attack on Congress and said, "People who have violated national policy of talks and terror not going hand in hand should apologise."
Insisting on the details of discussions in the dinner meeting, the finance minister questioned the necessity of having the meeting in current atmosphere. 
"Those like Mani Shankar Aiyar always had an inconsistent position. They maintained a parallel line of dialogue, underplayed Pakistan's role in instigating terrorism in India and continued to engage with them (Pak)," he said. 
The FM countered Singh's claim of Modi Govt's laxity towards terrorism and said that no govt in the past has track record that this govt has had in fighting terrorism. 
Earlier in the day, senior Congress leader Manmohan Singh launched a scathing attack on Prime Minister Narendra Modi saying the prime minister is spreading "falsehood and canards" in a desperate bid to win the Gujarat elections.
In a hard-hitting statement, Singh denied allegations that he and others were invited to a dinner at Congress leader Mani Shankar Aiyar's residence with Pakistani diplomats where they had discussed the Gujarat election.
Asking PM Modi to apologise to the nation, Singh said, "I am deeply pained and anguished by the falsehood and canards being spread to score political points in a lost cause by none less than ... Modi. Fearing imminent defeat in Gujarat, desperation of the prime minister to hurl every abuse and latch on to every straw is palpable."
"Sadly and regrettably, Modi is setting a dangerous precedent by his insatiable desire to tarnish every Constitutional office including that of a former prime minister and army chief," the Congress leader added.
"I reject the innuendos and falsehoods as I did not discuss Gujarat elections with anyone else at the dinner hosted by Aiyar as alleged by Modi. Nor was the Gujarat issue raised by anyone else present at the dinner," Manmohan Singh said. "The discussion was confined to India-Pakistan relations."
Singh also took the opportunity to remind that Modi had gone to Pakistan uninvited after Udhampur and Gurdaspur terror attacks. 
"Let him also tell the country the reason for inviting the infamous ISI of Pakistan to our strategic Air base in Pathankot to investigate a terror attack that emanated from Pakistan," he said.
Singh's statement follows PM Modi allegations at an election rally in Gujarat that guests at Aiyar's house, including Manmohan Singh and former Vice President Hamid Ansari, discussed the Gujarat election with Pakistan's High Commissioner to India and a former Pakistani foreign minister among others.