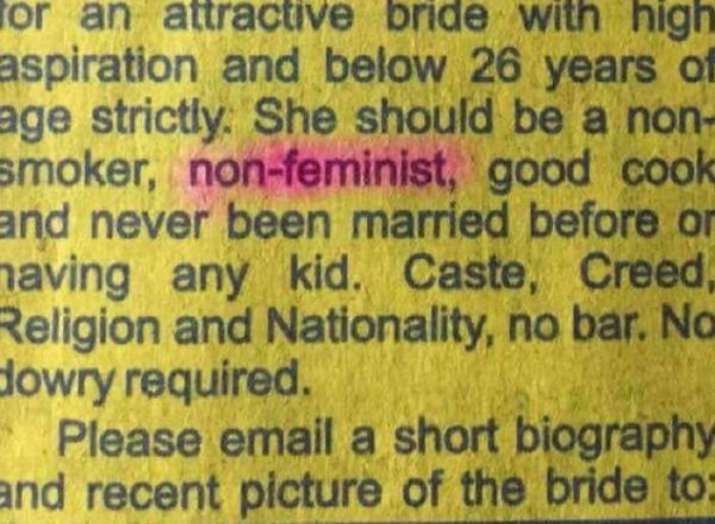 While the world is moving at a pace to eradicate caste, creed and gender barriers from everywhere, a matrimonial ad is doing rounds on the internet that has completely shaken the laws of not just marriage but being a modern day human being.  The ad is about a 37-year-old Mysuru-based industrialist who is looking for an 'attractive' bride. He has his own international export business and is presently earning an 8-figure salary. However, his demands in the ad are going viral on the internet for all the wrong reasons.
The last few lines of the matrimonial reads – "She should be a non-smoker, non-feminist, good cook and never been married before or having any kid. Caste, Creed, Religion and Nationality, no bar. No dowry required" The mention of 'non-feminist' in the description has not gone down well with the Twitterati and they can't help but slam the man for his 'sexist' remarks.
A #matrimonial ad. The guy's checklist.

I've seen worse, so ya, don't ask me why I'm not married yet and don't tell me these kinds are exceptions. They're everywhere.
I haven't married by choice as I have my own identity. Not born to be a slave of anyone's desires and demands. https://t.co/wWenYvi4V1

— Neha Chamaria (@NehamsChamaria) September 9, 2018
The ad most certainly proves that sexism still prevails in many communities in our country and no matter how much we try to bring equality in the society, it will never happen till people like him don't change. While netizens flooded the ad with displeased comments, they also took a dig at the publisher for printing it. The ad was published in The Hindu.
Here are some of the reaction-
With an ad like this, I'm sure the ladies are queuing up in droves, lover boy.#matrimonial #feminism #IndianValues pic.twitter.com/XIum5dxBB1

— ComicThief (@ComicThief) September 11, 2018
Rig Vedic, Atharva Vedic Kshatriya background 😂
UCH male industrialist looking for a virgin, unmarried bride below 26 years age while being 37 himself. Should be 'non feminist and good cook'.
Double standards much! https://t.co/NzZWvqNuD0

— ਪੰਜਾਬ ਨਾਗਰਿਕ (@akdwaaz) September 10, 2018
The bride has to be a 'Non-feminist' & good cook. However, caste & religion are no bar. pic.twitter.com/c2Dw1vbCP9

— Shams Ur Rehman Alavi شمس (@indscribe) September 10, 2018
(37 years) Young 🤔 looking for Non #feminist wife with high aspiration 🤔🤔🤔 pic.twitter.com/29nGBMWXov

— दोस्रो दर्जाकी LUNA (@luni_ba) September 10, 2018
"non-feminist" has now made it to the matrimonial ads. We must be doing something right. 😂 pic.twitter.com/BPohObQQ9y

— Rimi 🌳 (@_payodhi) September 10, 2018
This guy legit posted a matrimonial ad requesting a "non-feminist" - bcus god forbid your wife wants to have equal rights 🤦🏻‍♀️ #redflags pic.twitter.com/dZc3HpNZYE

— The Indian Feminist (@_indianfeminist) September 11, 2018
So this 37 year old needs a below 26 "non feminist" to be his material pic.twitter.com/qzZTRKOnmn

— प्रशस्ति تعریف کرنا 🌸 (@prashasti155) September 11, 2018
It's shameful that women are conformed into the hackneyed Indian bride who cooks, cleans the house and her sole purpose is having male babies. It is shameful to live in a society where the idea of a free, independent women is just that - an idea. SHAME.https://t.co/9XdiX52idC

— Parth Sharma (@ParthSharma411) September 11, 2018
According to reports, a woman who responded to the matrimonial received a rape and murder threat in the reply. 
For latest stories breaking the internet, check out our BUZZ section!