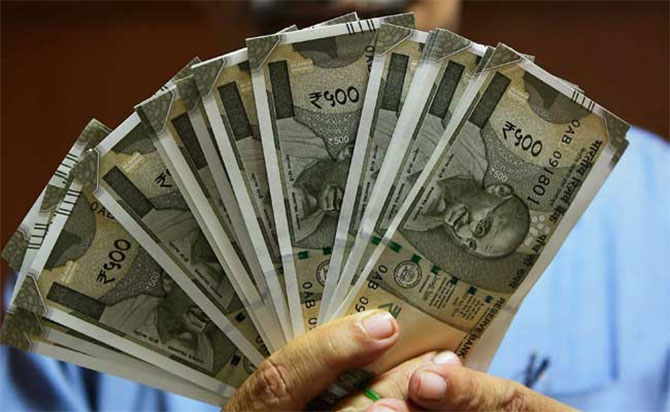 Global brokerage firm Morgan Stanley has expressed confidence in India's economic prospects in the long run, saying it expects India to be a $6 trillion economy in the next 10 years. The growth would peg India as the third largest economy in the world, with the report identifying India's digitization drive to boost GDP in the coming decade.
Morgan Stanley's projections come at a time when the economy is reeling under slow growth, banking crisis and struggling to create jobs.
Here are 5 key takeaways from Morgan Stanley report released Wednesday:
1. India fastest growing large economy by 2027
Morgan Stanley said in its report that digitization is going to provide a 50 basis points push to GDP growth and forecast India to grow into a $6 trillion economy by 2027 fiscal. The brokerage expects India's real and nominal GDP growth to compound annually by 7.1 percent and 11.2 percent respectively over the coming decade.
"India's economy already had strong growth prospects for the next ten years. The trend line in India's annual GDP growth has been accelerating from 5.8 per cent in the 1990s to 6.9 per cent in the 2000s. We think this trend will likely continue for the next decade given the structural factors like favorable demographics, globalization, and reforms … and digitisation reinforces our views. We lift our annual long-term growth forecast by 50 bps," it said.
2. Digital Drivers: Jan Dhan, Aadhaar, Mobile, GST
The report notes that the 'Holy Trinity' of Jan Dhan, Aadhaar and Mobile (JAM) are the key reform initiatives that will drive the digital economy. These reforms, the report notes, has brought the country to an inflexion point in terms of growth, with digitization impacting stock returns, financial sector dynamics, consumption growth and e-commerce activity.
Though it identified the Goods and Services tax (GST) to disrupt smaller businesses causing job losses and a general slowdown in economic growth, it expects GST to lead to lower public debt to GDP ratio subsequently.
3. BSE to cross 1,00,000 mark, FDI to grow
Morgan Stanley noted that it expects India's stock market to be among the world's best performers, with the BSE Sensex crossing the 100,000 mark in coming years. "We think India's stock market could be among the world's best performers in the next ten years, leading to India's market cap rising from nearly $2 trillion to $6 trillion. India's consumer sectors are also likely to add about $1.5 trillion over the next ten years.
"We project gross FDI inflows amounting to $120 billion by FY'27, almost double the current 12-month trailing run rate of $64 billion," Morgan Stanley said.
4. Consumer loans as drivers of growth
The global brokerage said it expects consumer loans to be the major drivers of growth as RBI's regulations keep corporate loan growth muted.
"As data availability becomes better and quicker, banks will be able to roll out new products (for instance HDFC Bank's "loan in 10 seconds"); in our view this, along with fairly strong economic growth, will help drive consumer loan growth at a 17 per cent CAGR over the next decade," the report said.
It expects banks' loan growth to increase by 12 per cent annually.
5. Courts, political stability key to growth
The report while highlighting the potential it sees in the economy, noted that judicial decisions and implementation of reform measures introduced will be key factors to watch out for in the coming years. Making a specific reference to the privacy debate on Aadhaar, the report said that while the Supreme Court has made privacy a fundamental right in a recent judgement, private parties will likely continue to question whether Aadhaar violates privacy rights.
"Any adverse judgement in the courts could derail one of the main anchors of our framework," it said, adding that political stability and implementation of the GST were key factors for growth.