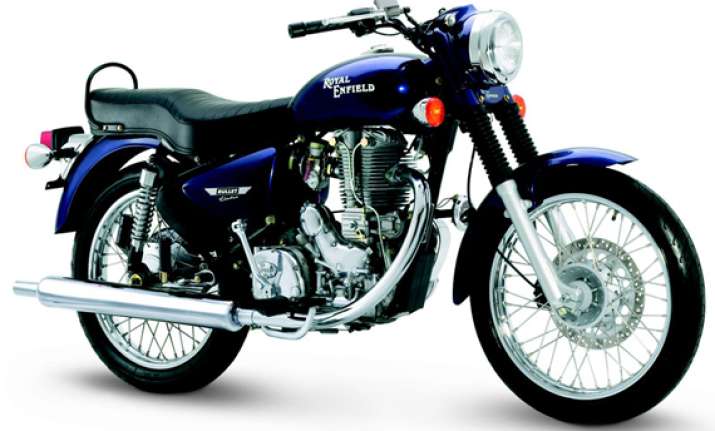 Chandigarh, Oct 31:  Royal Enfield today said the waiting period for delivery of its bikes will come down after the commissioning of the Rs 150-crore plant coming up next year at Chennai.
"There is a waiting period of 6-8 months on most of our models in states like Maharashtra, Kerala, Kolkata...with the new plant coming up in next year, the waiting period on our bikes will come down," Royal Enfield (unit of Eicher Motors) Senior Vice-President (Sales & Marketing) Shaji Koshy told reporters here.
The company is in the process of setting up a new facility at Chennai with an investment of Rs 150 crore, taking the capacity to 1.50 lakh units per annum. This facility is expected to come up in first quarter of next year.
The motorcycle maker expects over 30 per cent growth in sales for current year with a sales volume of 1 lakh units.
"We are expecting sales of 1 lakh units this year," he said. The company posted sales of 75,000 units last year.
The company has different models, including Bullet 350, Electra, Classic 350, Classic 500, Classic Chrome, Thunderbird 500, Thunderbird 350 and Desert Storm, for the Indian market.
Talking about markets, he said Punjab has turned out to be one of the top states in terms of sales for Royal Enfield as it accounts for 15 per cent of company's sales.
"Punjab is one of the most important markets for us.  Punjab is now (among) top states in terms of sales," he said, adding that Maharashtra, Karnataka, Delhi and Tamil Nadu are other major markets.
Royal Enfield has grown in terms of sales by 25 per cent in Punjab and Chandigarh with monthly sales touching the figure of 1,500 units per month as against 1,100 units per month in 2011.
"60 per cent of sales in Punjab constitute our Bullet 350 model," he said.
The company has also plans to expand dealership network in Punjab and Chandigarh by opening 4-5 dealers more.
Currently, the company has 27 dealers in these markets.
Royal Enfield has also rolled out jackets, t-shirts and riding gear following the demand from customers.
"We have just entered the market (of apparel and riding gear) and this has been done because of demand from customers," he said.