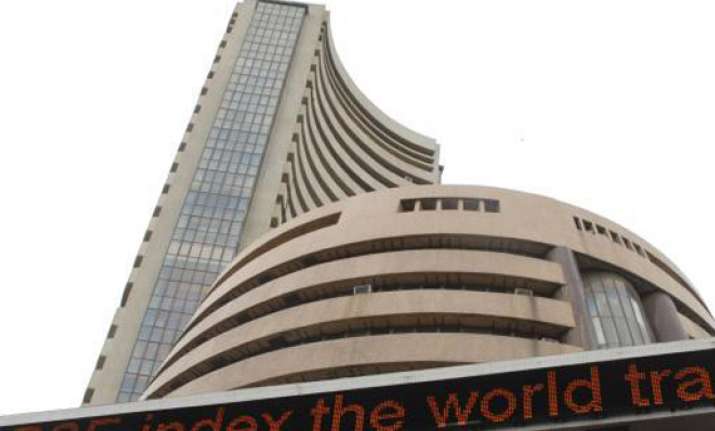 Mumbai, Apr 25:
In volatile trade, the BSE benchmark Sensex plunged nearly 190 points following S&P downgrading India's credit rating outlook to negative, but recovered most of the losses to end the day lower by 56 points after Finance Minister Pranab Mukherjee said there is no need for panic.
The 30-share Sensex nosedived by 188 points soon after reports of S&P downgrade trickled in. It was trading at 17,019.24 while buying slowly started gathering, before ending the day at 17,151.29, showing a loss of 56 points from its previous close.
Standard and Poor's revised its outlook on India's long-term rating to negative from stable, citing a slowdown in investment and economic growth and a widening in the current account deficit.
Brokers, however, said Mukherjee's comment soothed investors' nerves. The Finance Minister in New Delhi said: " I am concerned but I don't feel panicky because I am confident that our economy will grow at 7 per cent, around 7 per cent if not plus. We will be able to control fiscal deficit and it will be around 5.1 per cent."
Shanu Goel Research Analyst Bonanza Portfolio said, "Market witnessed sudden bout of selling pressure during the afternoon trade on reports of S&P downgrading the outlook to negative for India."
Market sentiments were also weighed down by Wipro's muted guidance. Its shares tumbled 7.03 per cent, to emerge as the biggest Sensex loser of the day, after its fourth quarter earnings showed a 7.7 per cent increase in consolidated net profit.
Brokers also said stocks may remain volatile in the immediate future as traders roll over positions from the near-month April 2012 series ahead of the derivatives expiry tomorrow.
European stocks were trading higher in the early trade ahead of the US Federal Reserve rate decision. Key benchmark indices in UK, France and Germany were up by 0.31 per cent to 1.46 per cent.
Asian stock markets ended mixed as key benchmark indices in Singapore, China, Japan and Taiwan rose by between 0.15 per cent to 0.98 per cent while indices in South Korea, Hong Kong and Indonesia fell by between 0.07 per cent to 0.15 per cent. The NSE-50 share index also dropped by 20.65 points or 0.40 per cent to 5,202.00.
Major losers in Sensex were Gail India (3.35 pc), BHEL (2.32 pc), TCS (1.92 pc), Coal India (1.81 pc), M&M (1.70 pc), NTPC (1.44 pc), ONGC (1.19 pc), Sunpharma (1.05 pc) and ICICI Bank (1.04 pc).
Sensex gainers include Bharti Airtel which firmed up by 2.25 per cent, Hero MotoCorp (1.92 pc), Sterlite Ind (1.89 pc), Maruti Suzuki (1.23 pc) and HDFC Bank (0.96 pc).
Among the major indices the BSE Consumer Durable fell by 1.67 per cent followed by the BSE IT (1.48 per cent), the BSE PSU (1.42 per cent), BSE Realty (1.33 per cent) and the BSE Power (1.28 per cent). BSE Auto was best-performing index today with 0.48 per cent gain.
The overall market breadth continued to remain negative as 1,444 shares finished with losses while 972 shares ended with gains.
The total turnover dropped to Rs 2,076.55 crore from the yesterday's closing level of Rs 2,245.93 crore. Foreign institutional investors (FIIs) sold shares worth Rs 860.77 crore yesterday as per provisional data from the stock exchanges.