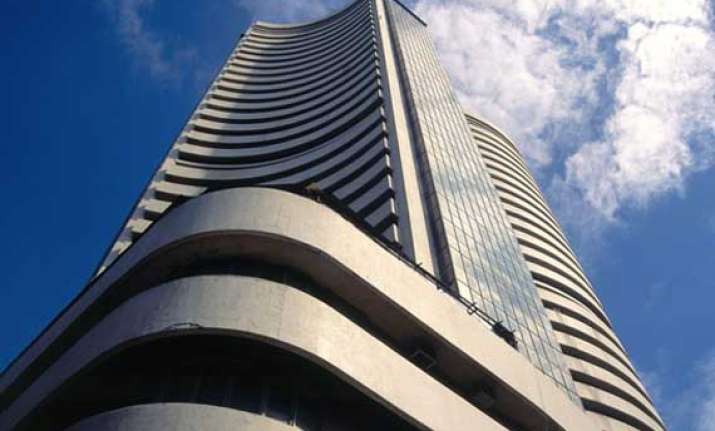 New Delhi: Stock markets on Monday continued to wilt under heavy selling on rupee plummeting to new lows, with BSE Sensex slumping 291 points to over 4-month low and NSE Nifty diving 93 points to end at lowest level in 11 months.
Investors remained rattled after RBI on August 14 unveiled stern measures, including curbs on Indian firms investing abroad. Sensex last Friday crashed by 769 points -- the worst fall in 4 years -- on fears that more steps will be announced to control capital outflows to shore up the unit.
Weakness in global markets and speculation over the US rolling back its economic stimulus package as early as next month also affected the sentiment.
Investors sentiment took a hit with rupee racing towards 63-level. The domestic currency was trading at its all-time of low of 62.8 in the late afternoon trade. Later, it breached 63-mark after stock markets closed for the day.
FII selling in shares of banks, auto, pharma and FMCG eroded Rs 1 lakh crore in investor wealth with Sensex ending at 18,307.52, a drop of 290.66 points or 1.56 percent.
ICICI Bank, Bharti Airtel and Bajaj Auto were among biggest Sensex losers.
Similarly, the 50-issue NSE CNX Nifty also dipped by 93.10 points, or 1.69 percent, to end at 5,414.75 -- the lowst since September 2012. Also, SX40 index closed down 201.76 points, or 1.82 percent, at 10,881.76.
"No respite has been seen today despite assurance from the government that situation of 1991 shall not be repeated and condition is not worse. Banking and Auto stocks led the fall today," said Nidhi Saraswat, Senior Research Analyst, Bonanza Portfolio Ltd.
Banks were hit on concerns over mark-to-market losses on banks' portfolios, brokers said.
Bucking the weak trend, software exporting companies led by Infosys rose over one percent on hopes the fall in rupee would improve their revenues.
Foreign Institutional Investors (FIIs) sold shares worth a net Rs 563.23 crore on last Friday, as per provisional data from the stock exchanges.
Most Asian stocks ended lower for a third straight day as worries about the Federal Reserve's policy outlook and rising US Treasury yields weighed on the sentiment. Key benchmark indices in Hong Kong, Singapore, South Korea and Taiwan were down by 0.13-0.76 percent while indices in Japan and China rose by 0.79-0.83 percent.
European markets were trading lower in their early trade as rise in US Treasury yields spooked investors. Key indices in France, Germany and UK eased by 0.22-0.63 percent.
Moving back to the local market, 24 scrips out of the 30-share Sensex ended lower while six others finished higher.
"The quarterly results season has ended and growth for the current fiscal is expected to be lower than earlier estimates. A depreciating rupee will result in increased costs for various companies, thereby impacting margins. Even at lower stock prices, the valuations have not turned appealing," said Dipen Shah, Head - PERCENTG Research, Kotak Securities.
Major Sensex losers were Bharti Airtel (5.51 percent), ICICI Bank (5.07 percent), Bajaj Auto (4.55 percent), Sun Pharma (4.05 percent), Tata Motors (3.77 percent), ONGC (3.73 percent), M&M (3.51 percent), Cipla (3.36 percent), Hero MotoCorp (2.85 percent) and SBI (2.60 percent).
BHEL (2.45 percent), L&T (2.43 percent), NTPC (2.15 percent), ITC (1.80 percent), HUL (1.63 percent), Dr Reddy's Lab (1.20 percent) and Maruti Suzuki (1.38 percent) were also among the worst hit.
However, Tata Steel rose by 5 percent, followed by Hindalco Ind (1.89 percent), Tata Power (2.46 percent) and Infosys (1.04 percent).
Among the sectoral indices, S&P BSE bankex dropped by 3.40 percent, followed by S&P BSE-Auto 3.13 percent, S&P BSE-HC 2.49 percent, S&P BSE-FMCG 2.07 percent, S&P BSE-PSU 2.05 percent, S&P BSE-CD 2.05 percent, S&P BSE-CG 1.91 percent and S&P BSE-Oil&Gas 1.38 percent.
However, BSE-Metal rose by 1.78 percent and BSE-IT by 0.31 percent. Market breadth continued to remain negative as 1,401 shares finished with losses and 886 ended higher while 142 ruled steady. The total market turnover dropped to Rs 1,844.66 crore from Rs 2,132.35 crore on last friday.