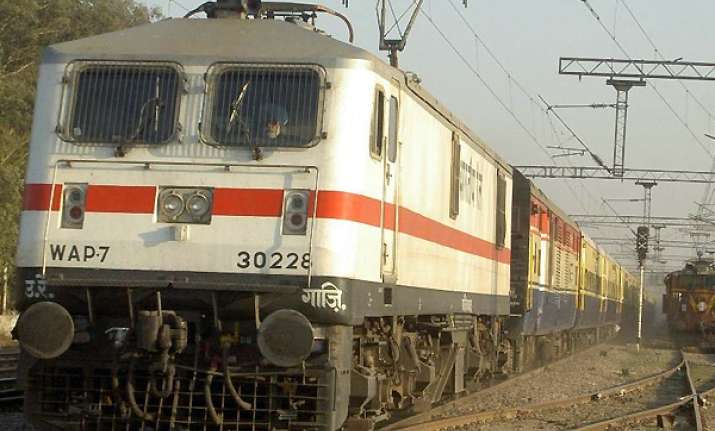 New Delhi, March 14: Following are the salient points of Railway Minister Dinesh Trivedi's rail budget speech in Parliament today:

- All unmanned railway level crossings to be abolished in next five years.

- 60 to 70 per cent casualties occur at unmanned railway level crossings.

- Sam Pitroda to head  Railway Modernization Committee.

- Special Purpose Vehicle named Railroad Separation Corporation of India to be set up to abolish unmanned railway crossings.

- Mission Railway Modernization to be set up under director, which will report to Railway Board.

- Railway Safety Authority, an independent statutory regulatory body to be set up.
- Railway Safety Plan for 12th Plan will be Rs 16,842 crore.

- Railway investment in the 12th Plan to be Rs 7.35 lakh crore against Rs 1.92 lakh crore in the 11th Plan

- There are 487 unfinished projects of new lines gauge conversion and new lines worth Rs one lakh crore.

- Propose to bring down operating ratio from 95 to 84.9 pc in 2012-13 and lower it to 74 pc by terminal year of 12th plan.

- Annual Plan for Railway for 2012-13 put at highest ever Rs 60,100 crore.
- Gross budgetary support for Railways for 2012-13 Plan fixed at Rs 24,000 crore.

- Plan to modernise 19,000 km of railway tracks, which cater to 80 per cent of traffic.

- Railway coaching terminal in Naihati, West Bengal To Be named after Bankim Chandra Chattopadhyay On His 175th Birth Anniversary.

- Indian Railways Stations Development Corp will redevelop stations and maintain them on pattern of airports.
- Logistics Corporation will be created for providing logistics solutions for rail users.

- Budgetary support pegged at Rs 25,000 crore for the coming year as against projected requirement of Rs 45,000 crore.

- 14 new rail line survey to be taken up in 2012-13.

- 725 km of new line completed in the current year, Rs 6,725 crore for new lines.

- 800 km of lines to be gauge converted at Rs 1,950 crore in 2012-13.

- All meter gauge, narrow gauge sections to be made broad gauge, except heritage lines, by end of 12th Five Year Plan.

- 31 projects of over 5,000 km being implemented with the support of state governments.

- Agartala-Akhaura (Bangladesh) rail link proposed.

- Wagon factory proposed in Siktapalli in Ganjam district, Odisha.

- Diesel Locomotive factory planned in Vidisha, MP

- Special Housekeeping body to take care of cleanliness and hygiene in stations and trains.

- Regional cuisines, Book-a-meal facilities, new Rail Meal Plan proposed.
- Reputed  professional agencies to be engaged through global tenders to provide world class cuisines on premium trains.

- Two new members to be inducted in Railway Board, one for PPP and marketing and the other for safety.

- Guru Parikrama Express To Run between Amritsar, Patna and Nanded.

- 75 New Express trains announced.

- All out efforts to improve hygiene in trains and stations in next six months.

- All Garib Rath trains to have one special AC coach for differently abled persons.

- Rlys to replace open discharge toilets with green toilets. 2,500 coaches will be equipped with bio-toilets next year.

- Railways to recruit more than one lakh persons in 2012-13.

- Passenger amenities to be given Rs 1,112 crore in 2012-13.

- As against Rs 762 crore in current year Rail Khel Ratna awards to be given to rail sportspersons every year.

- Expansion of suburban rail networks and addition of more services in Mumbai, Chennai and Kolkata.

- Indian Railways passing through difficult phase: Trivedi.

- 75 new express passenger trains to be introduced

- Passenger earnings to increase to Rs 36,200 crore. Gross traffic receipts Rs 1,32,552 crore

- Surplus with railways at Rs 1,492 crore in current year as against targeted Rs 5,258 crore

- Railways to carry 55 million tons more freight at 1025 million tonnes in 2012-13

- Gross rail traffic targeted to increase by Rs 28,635 crore to Rs 1,32,552 crore in 2012-13

- Railways To Return To Finance Ministry Rs 3,000 Cr Loan

This Fiscal Itself With 8.55 pc Interest

- Marginal Rail Fare Hike Announced

- Two paise per km fare hike for suburban travel and Second Class

- Three paise per km fare hike for Mail/Express travel

- Five paise per km for sleeper class travel

- Ten paise per km fare hike for AC Chair and AC 3-tier

- 15 Paise per km fare hike for AC 2-tier travel

- 30 paise per km fare hik for  AC first class travel

- 50 per cent concession in fare in AC classes to anaemia and sickle cell disease patients

- Body of experts to examine setting up of an independent Railway Tariff Regulatory Authority

- Railways to hike passenger fares - ranging from 2 paisa to 30 paisa per kilometer

- Platform tickets to cost Rs 5/-