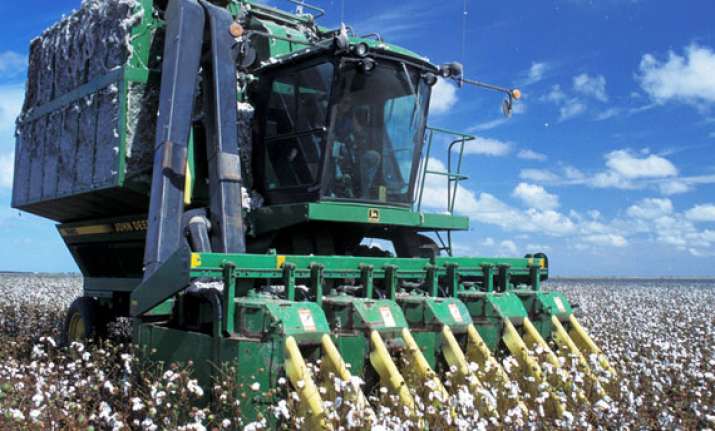 Chandigarh: The Punjab government Monday announced that a "Cotton Mechanisation Programme" would be introduced in the cotton-producing Malwa belt of south-west Punjab.
It will give a boost to crop diversification in the state and maximise profit of cotton cultivators.
Under the programme, okayed by Chief Minister Parkash Singh Badal, pneumatic planters, cotton picking machines and high yielding varieties of seeds would be introduced. A "Centre of Excellence of Cotton" would also be set up in Bathinda, a spokesman of the chief minister's office said here.
"The project primarily aims at maximising the profit of the cotton cultivators, reducing the input cost by overcoming the problem of expensive labour and bringing down the process of cotton cultivation to pave way for high yield of wheat crop," he said.
Under the ambitious programme, the Punjab Agriculture University (PAU) and the state agriculture department will work with agro companies like John Deer, Bayer India and others. They will conduct adaptive trails on 1,500 acres of land in villages near Malout of Muktsar district by practicing high density cotton cultivation, in which seven packets of cotton seeds were sown instead of existing two over one acre of land.
Farmers will be given equipment for sowing and chemicals by private companies free of cost.
"To encourage the farmers for adopting high density cotton cultivation, the state government would provide a subsidy of Rs.4,000 per acre to the farmers under the programme," he said.
Punjab farmers mostly do wheat-paddy cycle farming. The state is the biggest contributor of foodgrains to the central kitty.