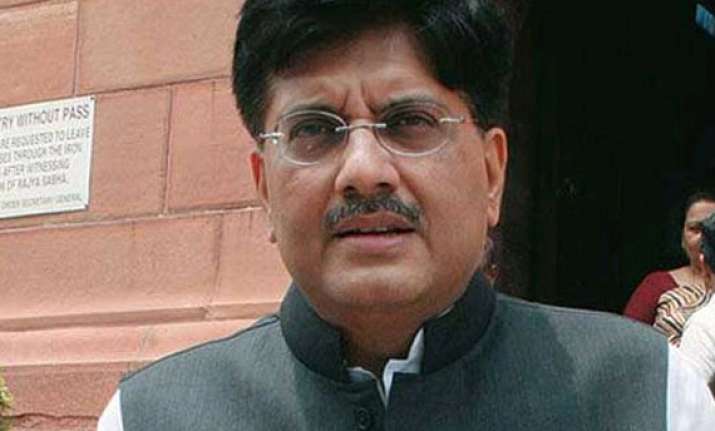 New Delhi: With lack of transport infrastructure hampering coal production, the new government says it has brought on track one of the three critical rail links in Chhattisgarh and efforts are on to fasttrack other two in Jharkhand and Odisha. "There is potential to add another 200 or 300 million tonnes if three critical rail links are expedited in the states of Chhattisgarh, Jharkhand and Odisha...Timelines have been drawn up and the Chhattisgarh rail link has come on track," Coal and Power Minister Piyush Goyal told PTI in an interview.
Goyal said "for the other two rail links there are certain issues in a federal structure again dependent on states and I am hoping to get them sorted out expeditiously," or else the govenrment would find out other modes of transportation. The statement comes against the backdrop of some of the projects pending for completion for a decade at a time when potential production loss from lack of railway connectivity is estimated at equivalent to over two-third of CIL 's total annual output at about 460 million tonnes (MT).
The three rail corridor projects entailing about Rs 7,500 crore expenditure are—Tori-Shivpuri-Kathotia in North Karanpura, Jharkhand; Bhupdeopur-Korichhaapar to Mand Raigadh mines in Chhattisgarh; and Barpali-Jharsuguda in IB Valley, Odisha—which are under different phases of development. As per original plans, rail project for North Karanpura coalfield, work on which had started in 1999, was scheduled for completion in 2005 but only half of it would be completed by March, 2015.
Likewise, the IB Valley project in Odisha, which too started long back, should have been completed in 2009. Goyal said the Centre apart from expediting these projects was also "looking at new technologies to bypass these railway lines" for transportation of coal, including conveyor belts or pipes, and options were being explored. He said the new government was committed on fast-tracking these projects and issue was "flagged off" soon after the govenrment formation and "I was at the Railway Minister's office with my whole team. Railway Minister, MoS Railway, Railway Board Chairman and all of us sat down. All of us drew up plans for these three links".
Coal India (CIL) has already provided more than Rs 300 crore to Railways for the projects and its former Chief S Narsing Rao had said that government should ask Railways for delay particularly when CIL was ready for 100 percent funding. CIL accounts for over 80 per cent of the domestic coal output. It missed output target of 482 MT for 2013-14, producing 462 MT. In 2012-13, CIL produced 452.5 MT of coal, short of the 464 MT target. Its production target for 2014-15 has been set at 507 MT, while the offtake target is 520 MT.
Earlier this year, Rao had said, "We have a potential to supply 300 MT of additional coal from some of our collieries but we lack crucial rail infrastructure for transporting it. Under the circumstances, we are in a position to increase our annual growth to only 30 MT for the next few years".
Earlier, Cabinet Committee on Infrastructure had also agreed to monitor the progress of the three rail links critical for transporting coal from CIL mines located in Odisha, Jharkhand and Chhattisgarh. Sources said that difficulties being faced in executing these three projects relate to forestry and environment clearances besides land acquisition, rehabilitation/resettlement as well as law and order problems.
Lack of infrastructure has come as a major problem for augmenting coal production when the demand-supply gap is likely to widen to 185.5 MT in 2016-17. The country had to import a record 135 MT coal last year to meet domestic requirement.
Battling low production, CIL has earmarked Rs 24,500 crore capital expenditure over the next few years mainly to boost capacity and is also looking at spending another Rs 14,500 crore to augment rail infrastructure.