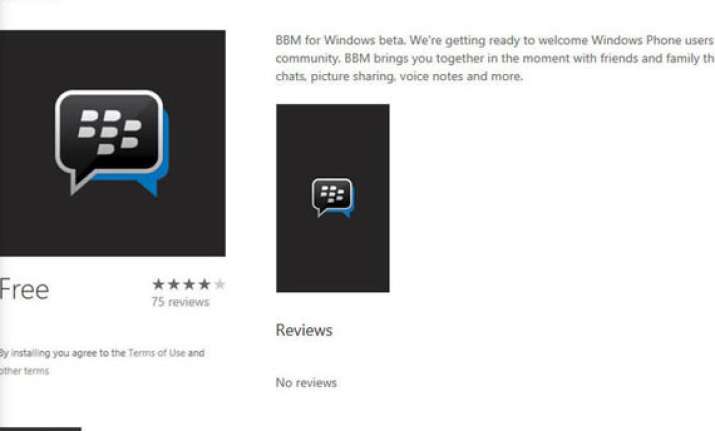 New Delhi: The BlackBerry Messenger app is now officially available through Microsoft's Windows Phone store, allowing Windows Phone customers to message friends on the BBM service on iOS, Android, and BlackBerry. The app has appeared is currently in beta mode, so it's not yet ready for prime time.
To download the app, you must be part of the BlackBerry Beta program. Here are some of the features that the app brings to Windows Phone:
BBID Setup and Log-in (for Whitelisted BBIDs)
Create BBM Profile
Invite a contact and suggested contacts (people you know)
1-to-1 & Multi-person Chat
Contact Categories
Manage Settings
BBM Groups
Notifications and in-app "splats" for new content. See them in Feeds, Contacts when they've sent you a message, etc.
BlackBerry wants BBM for Windows Phone beta testers to focus on the core features of its messaging service, like the ability to create a profile, manage settings, use Groups and so on, as well as some platform-specific features, and possible issues, like the ability to pin live tiles from the app and receive notifications.
The company is looking aggresively to expand its horizons in other areas of business. One of those areas is BlackBerry Messenger. The free chatting and voice calling app extended its reach to iOS and Android late last year. That move added more than 40 million registered users to the total BBM population by the end of 2013.