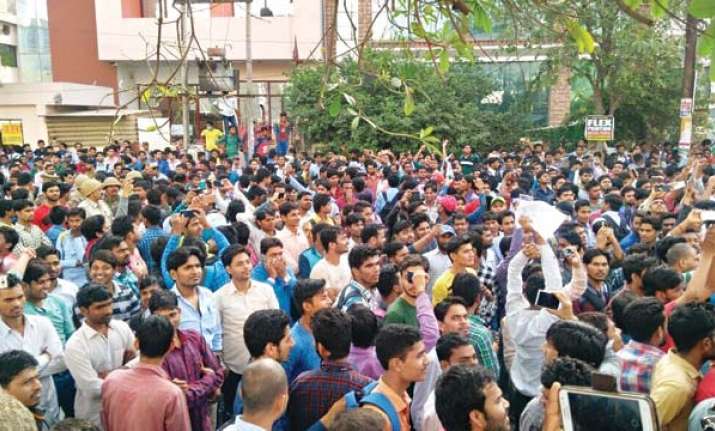 Reacting cautiously to the issue of a Chinese official allegedly insulting the Tricolour at smartphone maker Oppo's Noida unit, China on Wednesday said that it hopes that the rights of its companies and nationals working in India would be safeguarded. 
Beijing said it hopes that Indian authorities would "properly" resolve the Oppo issue and the company officials are in touch with the local police. 
"We have noted the relevant reports. Company officials are in touch with the local police," Chinese Foreign Ministry Spokesperson Lu Kang told a media briefing here. 
"We hope that it will be resolved properly. The Chinese government always asks its Chinese enterprises and staff overseas to abide by local law, regulations and respect local practices and customs," he said while replying to a question on the incident in Noida, Uttar Pradesh, which lead to protests by staff and public yesterday. 
Lu said, "We also hope that the legitimate rights of the Chinese enterprise and staff will be safeguarded under law." 
Workers at Oppo's Noida unit staged a protest yesterday after one of its Chinese officials allegedly threw the Indian flag in a dustbin. 
The company officials have offered unconditional apology after the district authorities and Deputy Labour Commissioner intervened in the matter, officials said. 
"Company officials and agitating employees were taken to discussion table. Both promised to resolve the issue amicably," city magistrate Ramanuj Singh said yesterday. 
Singh said the employees demanded that the CCTV footage should be checked "to identify the Chinese official who threw the Indian flag in dustbin and an FIR be lodged against him. Company officers have offered apology". 
There was also a labour dispute between workers and the Chinese company and the Deputy Labour Commissioner was also called to settle the matter amicably, according to district officials.