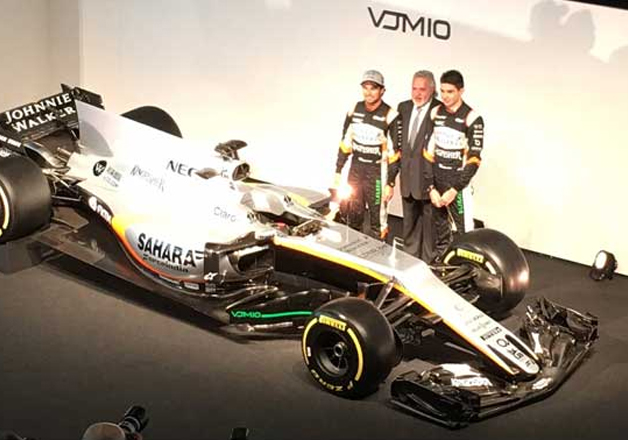 Beleaguered businessman Vijay Mallya was on Wednesday seen at an event in UK promoting a new Formula One car launched by his team Sahara Force India.
Mallya, who is wanted in India for Rs 9,000 crore loan default, shifted to Britain last year to evade court proceedings in the case.
In a photograph uploaded by official Formula One website, Mallya, who was dapped in a suit, was seen 'very relaxed'. He was accompanied by two drivers Sergio Perez and Esteban Ocon. The new car of his F1 team was launched on Wednesday at Silverstone.
Fugitive Mallya has been on the radar of the Indian agencies for a long time now and the government has been in talks with the UK government for his extradition over charges of multi-crore loan default by a consortium of Indian banks.
"A cracker of a car, " says Vijay Mallya. #F1 #VJM10 pic.twitter.com/2TNqFztTmD

— Jayfreese Knight (@JayfreeseKnight) February 22, 2017
Force India thus became the fourth team to reveal their 2017 Formula One racing car, after pulling the covers off their new VJM10 at Silverstone.
The Mercedes-powered team has retained much of their 2016 livery, although the bodywork is significantly different this year — with Force India incorporating a thumb-tip nose and shark fin engine cover, as also seen on the new Williams, Sauber and Renault. 
I am so proud of this superbly engineered beauty. Unlike Renault this is a real racing car that will test pic.twitter.com/QZr08igA4L

— Vijay Mallya (@TheVijayMallya) February 22, 2017
While the team surpassed all expectations by finishing fourth in the constructors' championship — their best-ever finish — team principal Vijay Mallya says it is too early to set targets for 2017, particularly given the major regulation changes.
"Simply repeating our performance level of 2016 will be a big task in itself," Mallya said.
"I don't want to set goals or targets other than to say that we intend to maintain the momentum we have built up in recent years and carry it into the new season. There are too many unknowns to say more than this," he was quoted as saying by the officials F1 website.
Technical Director Andrew Green added: "It's definitely a big overhaul; one that requires a change in mentality. It took a bit of time to adjust at first, but we are there now and I am confident we know where to look and where the performance is coming from with this car. The development slope is incredibly steep and we are going to see significant updates to the cars at regular intervals, right from the start; it's going to be big updates and I don't think development will start to taper off any time soon."
The car was presented by Sergio Perez — who enters his fourth season with Force India — and new recruit Esteban Ocon, who is a member of the Mercedes junior team.
Perez finished seventh in the 2016 driver standings, taking podiums at both Monaco and Baku. Ocon, meanwhile contested, the final nine races of the year with Manor, with a best result of 12th in the rain-hit Grand Prix in Brazil.