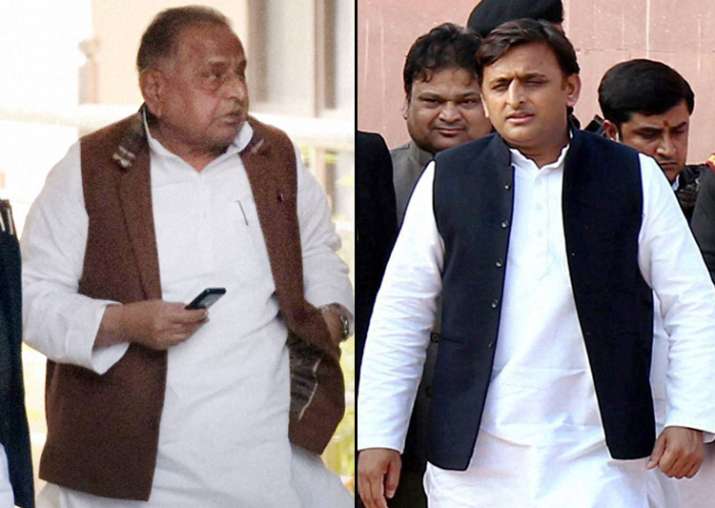 While Mulayam Singh Yadav and his son Akhilesh Yadav continue to wrestle for control over Samajwadi Party, there seems to be an unnoticed messenger, who passes some playful messages between the two - Tina Yadav. 
Tina, 10, is the youngest daughter of Akhilesh and Dimple Yadav, for whom the boundary between the homes of her father and grand-father is non-existent. On one of the visits by her grand-daughter, Mulayam told her, "Your father is very stubborn," all in a playful manner. 
When the message reached Akhilesh, he responded with a laugh, "Yes, I am," according to a report by a TV channel. 
The residences of Mulayam and Akhilesh are inter-connected and all the three children of the Uttar Pradesh CM, Aditi, 15, and 10-year-old twins Arjun and Tina cross over to their grand-father's home without any restriction even as the father-son duo continue to fight for Samajwadi Party. 
The feud seemed to pacified today as Mulayam extended an olive branch to his rebellious son saying he would be the next Chief Minister of Uttar Pradesh if Samajwadi Party retains power, even as the two factions escalated their fight in the Election Commission for the symbol 'Cycle'.
"Akhilesh will be the next Chief Minister. Our party is completely united. There is no question of the party breaking up," Mulayam said.
The surprise statement came on a day when the factional war in the Samajwadi Party escalated with the Akhilesh camp seeking an early decision on the disputed party symbol while the embattled SP patriarch asserted that he is still the party chief.
Before the factional dispute reached the Election Commission with the two sides claiming majority support of delegates and elected representatives, Mulayam had refused to anoint Akhilesh as the party's chief ministerial candidate, saying the new MLAs would choose their leader.