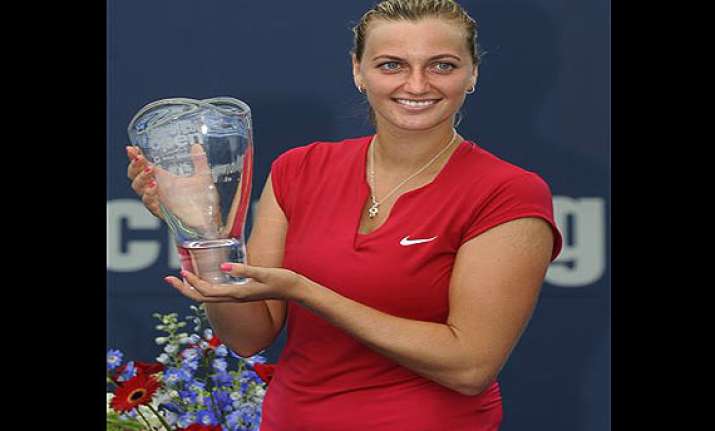 NEW HAVEN, Conn. : Wimbledon champion Petra Kvitova beat Magdalena Rybarikova of Slovakia 6-4, 6-2 Saturday to win her second Connecticut Open title in the past three years.
The No. 4 player in the world also won here in 2012 before losing in last year's final to Simona Halep. She did not drop a set in New Haven this week as she prepared for next week's U.S. Open.   
Kvitova broke Rybarikova's serve in the sixth game and final game of each set, running her opponent from one side of the court to the other. She sent a backhand across court on the final point and Rybarikova did not attempt to chase it down.   
Rybarikova said she injured her right thigh sliding to get to a ball Friday in her semifinal win over Camila Giorgi of Italy and was not sure she would be able to play on Saturday.   
She grabbed the back of her leg several times while sprinting after Kvitova's shots, but never called for a trainer. "In the beginning, it was OK, but then it started to be worse and worse," she said. "It's tough to play like this against such a great player. But I don't want to say I lost because of that."   
The Czech star was again dominant on her serve and was broken just once, in the ninth game of the match. It was just the third service break she had suffered this week. She also double faulted just 10 times during her four matches.   
"Last year I play a lot of three setters, not only here," she said. "I'm just glad that I did it without dropping any sets. I'm just very impressed about that." Kvitova was making her third straight appearance in the finals. She won here in 2012 and lost last year to Simona Halep. But she came into New Haven having played just three times since winning her second Wimbledon title, losing in her second match in Montreal and her opener in Cincinnati.   
"From the first match what I played here, I think I played a really solid game," she said. "Everything what I need, I just did it. That's important for me going with this into U.S. Open.  
Kvitova's play here had already assured her of a No. 4 ranking and a third seed in the U.S. Open, where she is slated to play Kristina Mladenovic of France in the in the first round. Rybarikova will face Caroline Wozniacki.   
"The problem is I play Monday," Rybarikova said. "That is a huge problem for me. This is the kind of injury which not going to go in one day." Rybarikova, ranked 68th in the world, has won four times on the WTA Tour, but was in her first premier-level final. She fell to 1-10 in matches against top-five opponents. The lone win came earlier this week over the No. 2-ranked Halep.   
The tournament, which was on the verge of moving to North Carolina a year ago, reported its first increase in attendance since 2005. The event drew 47,140 fans for the week, up from 45,796 last year when it was the New Haven Open. Attendance was still far below the 90,000-plus it used to draw and the 76,480 who came in 2010, the last year it was a combined men's and women's event.