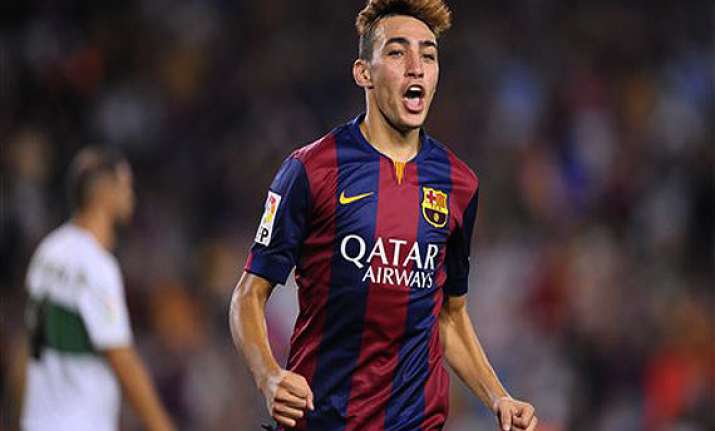 BARCELONA, Spain :  New coach Luis Enrique put his stamp on Barcelona in his winning debut. Luis Enrique was brought back as a former player who knew the club's inner workings and demanding tradition of success after the team failed to win a major title for the first time in six years under former coach Gerardo Martino.
His first risky move paid off on Sunday when he started little-known Munir El Haddadi alongside Lionel Messi in attack, with Neymar injured and the club waiting for Luis Suarez to finish his biting ban in October.   
The 18-year-old Munir responded by scoring Barcelona's second goal in a 3-0 victory over Elche to open the Spanish league season. His goal came after Barcelona had lost Javier Mascherano to a red card and crushed Elche's hope of a comeback.   
But Luis Enrique didn't think he was "brave" in giving Munir his first-team debut in the league opener in front of the Camp Nou crowd. "Brave, not at all," the coach said. "Munir is growing at a pace that is difficult to keep up with. He trains even better than he plays and he plays with attitude."   
Munir had just moved up to Barcelona's "B-Team" in the second division in March. But he caught Luis Enrique's eye and impressed after the manager included the promising forward in his preseason training sessions and friendlies.   
His inclusion in Barcelona's starting 11 was made more likely after Neymar twisted his left ankle in practice on Friday, but it still came with veterans Pedro Rodriguez and Xavi Hernandez on the bench.   
Selecting Munir has not been Luis Enrique's only unorthodox decision. He shipped Gerard Deulofeu off on loan to Sevilla after the club had expected to have the forward on its first team after a year playing on loan at Everton.   
Munir provided verve to Barcelona's attack from the start on Sunday, firing Andres Iniesta's pass off the corner of the goalframe in the 22nd minute. Then came his exquisite goal in the opening seconds of the second half when he ran onto Ivan Rakitic's long pass and chipped it over Elche goalkeeper Przemyslaw Tyton.   
"It's a point of pride for me to play at the Camp Nou, with Messi and the rest of the team," Munir said. "(Luis Enrique) told me that I had played well and for me to keep it up. He asks me to work and then work even more."   
The club said before the match that Neymar is recovering well from his ankle injury.