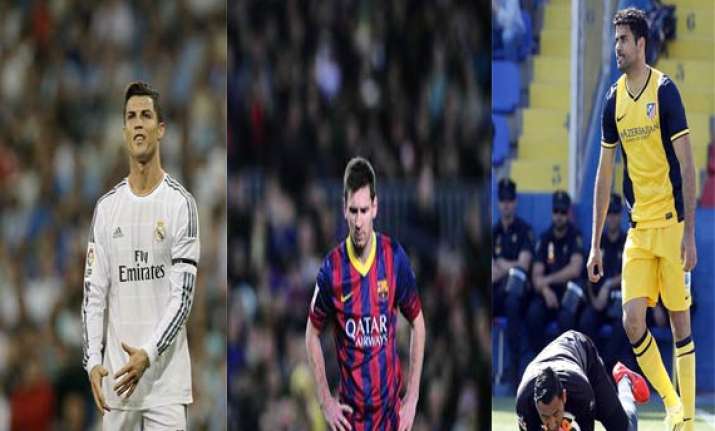 MADRID : Perhaps the Champions League success for Atletico Madrid and Real Madrid was the best thing that could happen to Barcelona -- at least as far as the domestic title race is concerned.
The Madrid clubs stumbled in the Spanish league on Sunday as they looked sapped of energy following their wins in the Champions League semifinals to set up a city derby in the final.   
That has provided Barcelona with renewed hope after the defending champion wrote itself off.   
Leader Atletico lost 2-0 at Levante, while Madrid needed a stoppage-time goal from Cristiano Ronaldo to draw 2-2 against Valencia at home. That came after Atletico beat Chelsea 3-1 at Stamford Bridge and Madrid routed Bayern 4-0 in Munich in midweek. Chelsea went on to draw 0-0 on Sunday against Norwich to virtually fall out of contention in the Premier League race.   
"Specifically on the physical front. Atletico and Chelsea had the same problem (as us)," Madrid coach Carlo Ancelotti said after the team's draw. "You can't give your maximum intensity like that and not pay the price for it."   
Atletico is still the front-runner as it needs only four points from its final two games -- against Malaga at home this Sunday before the trip to Barcelona on May 18. Atletico leads with 88 points and Barcelona is second with 85.   
Madrid has 83 points but with three games remaining, starting with Wednesday's match at Real Valladolid that will see the standings set for the last two rounds.   
"We can't forget that we depend on ourselves," Atletico captain Gabi Fernandez said. "We're 15 days from tasting glory, so we've got to keep fighting."   
Atletico holds the head-to-head tiebreaker over Madrid, so even wins for Real at Valladolid, at Celta Vigo, and home to Espanyol wouldn't be enough unless Atletico drops points.   
"I only trust in Madrid and no other team. We have to do our job and see what happens," Madrid defender Marcelo said. "First off, we have to win our games. We can't worry about other teams, we need to worry about ourselves, win, and then see."   
Ronaldo's turn-of-his-boot volley to stab in a 92nd-minute cross allowed Madrid to remain in the race.   
"Cristiano's goal was very, very important because if we had lost it would have meant we lost any chance of winning the league," Ancelotti said. "It was a key play. We've got three games left, and on Wednesday we'll play better."   
Barcelona looked to have given up on winning a fifth title in six years after conceding a stoppage-time equalizer to relegation-battling Getafe in a 2-2 draw on Saturday.   
Now, suddenly, Barcelona remains in the hunt, but needs Madrid to drop points to have a chance to avoid a first season without a major trophy since 2007.   
If Atletico and Barcelona end up tied on points, Barcelona will hold the head-to-head advantage as that scenario will arrive only with the titleholder beating Atletico on the final day.   
"One day someone said this league was boring, and now it's very fun," Atletico Madrid coach Diego Simeone said. "What we have left is a couple of rounds of pure football."