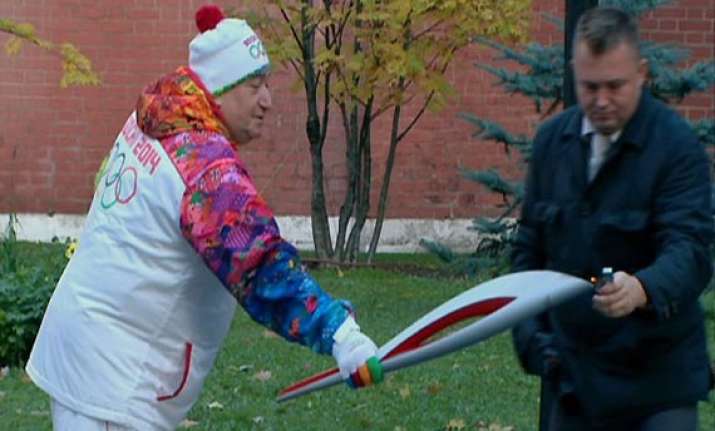 Moscow: The Olympic flame commenced its 123-day relay from Moscow on Monday, a day after a bumpy ceremonial journey around the Kremlin.
At noon, Moscow mayor Sergei Sobyanin lit the torch in the Red Square and handed it to its first bearer Anastasia Davydova, a five-time Olympic champion in synchronized swimming, reports Xinhua.
Sobyanin said the official start of the torch relay marked the final stage of preparations for the 22nd Winter Olympics in the Black Sea Resort of Sochi next February.
Davydova won gold medals in the duet competition with Anastasia Yermakova at the 2004 Athens Olympics and 2008 Beijing Olympics. She was also part of the Russian gold medal team in the 2004, 2008 and 2012 Olympics.
Saying she was honoured to be the first torchbearer, the 30-year-old swimmer appealed to people to participate in greater numbers in sports for fitness and a bright future.
More than 600 torchbearers will carry the red-and-white torch past major landmarks like Gorky Park, Luzhniki Stadium and Moscow State University in three days.
On Saturday, the torch went out briefly as a bearer was passing through a Kremlin gate. Dmitry Chernyshenko, head of the steering committee of Sochi 2014, said the accident was only a minor hiccup.
The flame will travel more than 65,000 km across Russia's 83 regions spanning 132 cities. It will also dive into Lake Baikal and fly in space before settling down in Sochi at the Games' opening ceremony Feb 7.