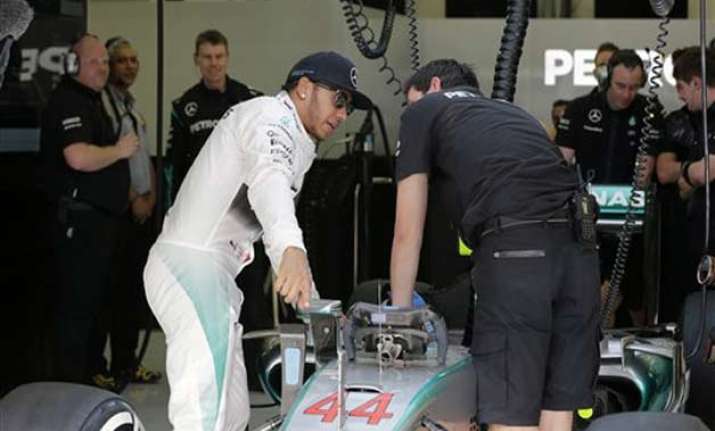 Sakhir, Bahrain: Formula One champion Lewis Hamilton warmed up for qualifying at the Bahrain Grand Prix with the fastest time in the third practice session Saturday.
Hamilton, the championship leader after winning two of the opening three races, aims for a fourth straight pole position in the evening qualifying session.
The Mercedes driver clocked a best lap time of 1 minute, 34.599 seconds, with Ferrari's Sebastian Vettel second best in 1:34.668 and Mercedes teammate Nico Rosberg third in 1:34.968.
Rosberg is looking for his first pole position and first win of the season.
The German took pole the past two seasons in Bahrain.
Hamilton has never taken pole here, but the British driver beat Rosberg by one second to win last year's thriller — held under floodlights for the first time.
In hot and windy conditions, dust blew onto the desert track and hampered visibility at times.
Rosberg mentioned some problems with his understeering, but aside from that neither Mercedes was troubled.
It has been a tough start to the season so far for Red Bull's Daniil Kvyat —who retired from last weekend's Chinese GP with engine failure. The 20-year-old Russian span off the track during Saturday's third practice, which was then held up by a red flag as his car was hauled off.
Kvayt, who has scored just two points so far, came back out with two minutes remaining in the session and clocked the 12th fastest time.