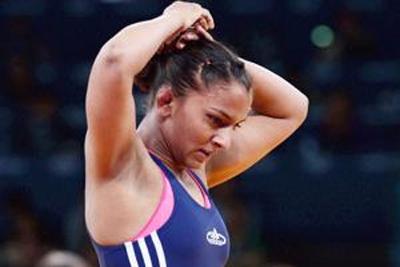 The birth of Geeta Phogat, who went on to become the first Indian woman to win a gold in wrestling at the Commonwealth Games, did not bring joy to her mother who was disappointed as she was wishing for a boy.
The revelation has been made in a new book on the Phogats titled, 'Akhada: The Authorized Biography of Mahavir Singh Phogat' which claims that it was Geeta's mother Daya Kaur and not her father Mahavir who was disappointed when she learnt that her first child was a girl.
This happened in 1988. Coached by her father, Geeta etched her name in record books as she became India's woman gold medallist at the Commonwealth Games prevailing over Aussie grappler Emily Bensted on October 7, 2010. That she was from Haryana, a state infamous for female foeticide, made her feat even more remarkable.
"As Mahavir stood amid the cheering crowd that day, his gaze locked in on his daughter with pride, the cold winter morning of 1988 flashed before his eyes. That was the day when he had held her in his arms and emphatically proclaimed one day she will make her family proud," says the book on the man who fought against all odds to give his daughters - Olympians Geeta and Babita Kumari - a future they could not have dreamt for themselves.
"It was not so much a declaration made by a father overwhelmed at the birth of his firstborn as the solemn promise of a man torn apart by his family's contempt towards his newborn because she was a girl," the book published by Hachette India says.
"One can perhaps imagine the state of Mahavir's mind as the father of a daughter in the late 80s, when girls were considered a liability. 
But, ironically, it was not Mahavir but his wife, Daya Kaur, who was hoping that their first child would be a boy," author Saurabh Duggal writes.
"When the baby was born, the chill of the winter morning stung a little more fiercely as Daya realised that their firstborn was a girl. Her disappointment showed clearly on her face," the book says.
Mahavir, whose is being immortalised on silver screen by Aamir Khan in the film "Dangal", now has his eyes set on the 2020 Olympics.
"I have introduced the girls to wrestling with the aim of winning an Olympic gold for the country and until that happens, my mission will not be accomplished," he says.