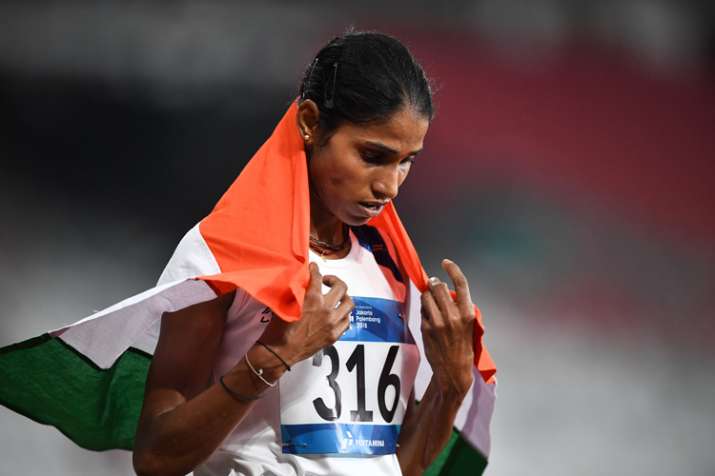 Jakarta Asian Games silver-medallist Sudha Singh says she is feeling demoralised after being denied the job of her choice -- Deputy Director's post in the Sports Department -- despite assurance from Uttar Pradesh Chief Minister Yogi Adityanath.
The 32-year-old Sudha had won a silver medal in the women's 3000m steeplechase in Jakarta. She had won a gold in the same event in the 2010 edition in Guangzhou.
"Sports department is determined that it will not take me. I am getting this treatment despite the fact that I am regularly winning medals. I want Deputy Director post in the Sports department but citing rules, it is being said that I cannot get this post. I am demoralised now," Sudha told PTI.
She had on Tuesday refused to take cash award at a programme in presence of Governor Ram Naik and CM Adityanath, saying that she wanted the job.
She, however, accepted the cheque after the Governor insisted.
"There are several instances when athletes were given Deputy Director's post. If not possible, I can be made regional sports officer but there are some in the Department, who do not want to give me the job," she alleged.
"When I met the CM recently, he offered me the post of Deputy SP but on my request, he was ready to appoint me as Deputy Director in the Sports Department. Despite this, Sports department is denying," she added.
State Sports minister Chetan Chauhan insisted that rules do not permit to appoint Sudha as Deputy Director.
"There is no hurdle in giving a job to Sudha but for the post, Deputy Director, there cannot be direct recruitment. Deputy Director is appointed through selection commission.
"It is class one post and the government does not have the right of direct recruitment on this post. She can get a job as Sports Officer and later she can become Deputy Director after promotion. State government is determined to help sportsmen," the minister said.
Sudha, though, is adamant..
"My file is pending for the past four years. I will only work in the Sports Department and not in any other department," Sudha, who is also reigning Asian champion, said.