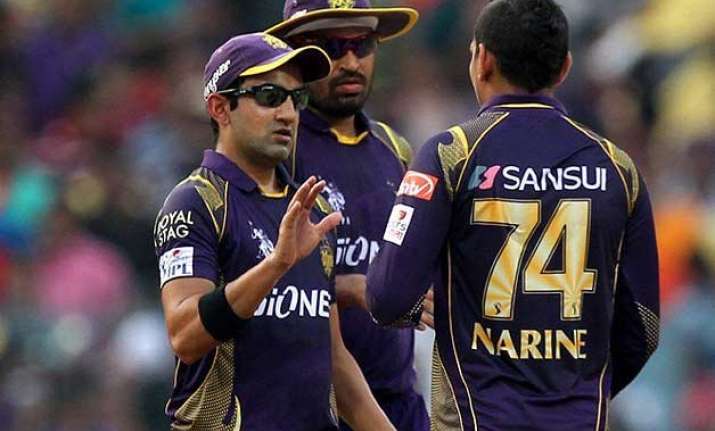 Kolkata: Hitting out at Sunil Narine's critics, Kolkata Knight Riders captain Gautam Gambhir  said the West Indies off-spinner was a quality bowler who has handled himself very well under tremendous pressure.
Narine returned impressive figures in a four-wicket haul when KKR bowled.
"I've always said he's the leader of the attack. People can talk whatever they want to -- I read somewhere that his 'mystery was solved' and things like that.
All that matters is that he's not a mystery bowler, for me he's a quality bowler. Mystery will eventually get solved but a quality bowler will always do well under any circumstances," Gambhir said at the post-match news conference at the Eden Gardens.
Narine had to go several tests at the ICC-accredited Sri Ramachandra Arthroscopy and Sports Sciences Centre in Chennai for his suspect action.
After the match between Knight Riders and Sunrisers Hyderabad on April 22, the on-field officials reported a number of Narine's deliveries as suspect as he underwent fresh tests immediately and was cleared to bowl all his deliveries expect the offbreak, which was deemed illegal.
On April 29, Narine underwent a re-test on his offbreak, which was banned by the BCCI, and was cleared on May 6 as he was immediately drafted in KKR's match against Delhi Daredevils and conceded 30 runs without any wicket.
Narine had a quiet season so far with two wickets from six matches but his best this season came today against KXIP in his seventh match.
Saluting Narine's fighting spirit, Gambhir said: "The kind of pressure he was in, the way he handled himself in the last one and half months is unbelievable."
"The way he came back in this tournament especially in today's game after whatever has happened shows the character and mental toughness of the person. Obviously it's a great feel to get back your leader of the attack. I felt that it's just the start of something special which he would do very soon.