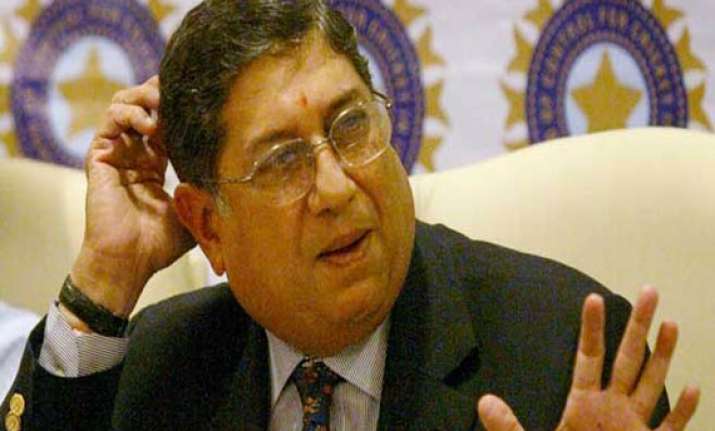 New Delhi: BCCI president N Srinivasan, who is set to take over as the new ICC chairman, said his prime focus during his tenure would be to make all the three formats of the game equally important.
The International Cricket Council (ICC) board passed some key structural and financial reforms last Saturday, which formalized powerhouse India's role as the game's financial bedrock and paved the way for Srinivasan to chair the ICC Board from July.     
As per the resolution passed, a new Executive Committee will be formed to report to the board. The initial chair of this Executive Committee (ExCo) will be Wally Edwards from Cricket Australia while the chair of the Finance and Commercial Affairs Committee (F&CA) will continue to be Giles Clarke from the ECB.     
"For me, all three formats are equally important. The endeavour is to look after all three formats as it is necessary for the health and development of the game," Srinivasan told PTI during an interaction here today.     
Some of the key elements of the resolution are the creation of Test Cricket Fund to protect the traditional format of the game, providing opportunities to associate members to play Test cricket, a new financial model for Full Members and enhanced support for the leading Associate Members.     
Srinivasan said that the member nations will stand to gain more out of the new arrangement.     
"I am very happy that new resolution will pave the way for bringing in stability in world cricket. The new resolution was necessary for better financial health of the cricketing nations. It will generate more income for member nations. This restructuring was necessary. We needed to redefine FTP (Future Tours and Programme) to make it more vibrant," he said.     
The proposal received strong resentment from Pakistan, Sri Lanka and South Africa but the ICC was able to pass it after gaining the support of eight of the ICC's 10 full members at the Executive Board meeting on Saturday.     
During the meeting, South Africa voted in favour of the plan while Sri Lanka and Pakistan abstained from voting.