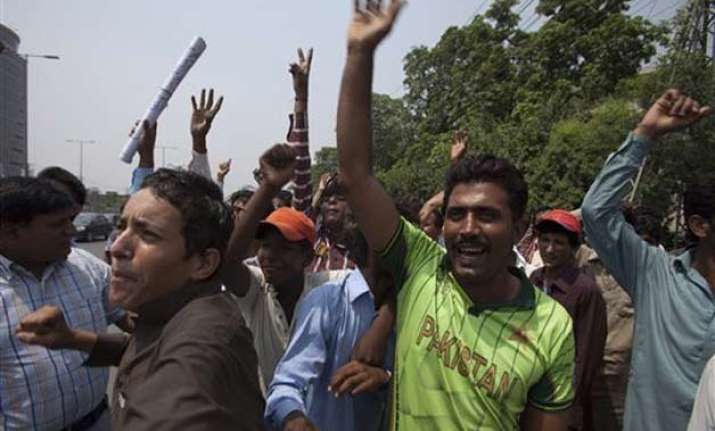 Lahore:  Guarded by hundreds of police, Gaddafi Stadium was filled to capacity and buzzing in anticipation of the first major cricket match in Pakistan in six years on Friday.
The crowd of 27,000 endured frequent security checks to reach their seats long before the Twenty20 match between Pakistan and Zimbabwe, the first test-playing team to visit this country since gunmen attacked the Sri Lanka team outside this venue in 2009, cancelling all major tours to Pakistan until now.
In temperatures of 43 degrees (109 F), fans were busy taking selfies in the stands with the teams doing fielding drills in the background.
"Who cares about this hot weather and at how many places I was checked by the security officials, I am just here to see the return of international cricket in my own country," said fan Waqas Zulfiqar, wearing a Pakistan jersey.
Zimbabwe coach Dav Whatmore, who coached Pakistan until last year, tweeted: "5.5hrs till game time & can't wait to experience the return of in'tl cricket to Pakistan... Go Zim!"
The teams arrived at the stadium in a fleet of vans carrying armed guards more than two hours before the match. Two helicopters hovered over the stadium.
Pakistan pledged blanket security to the visitors to persuade them to come, with at least 4,000 police and paramilitaries deployed to avoid a repeat of the 2009 attack, which killed six police and a driver.
Dozens of CCTV cameras surround Nishtar Park, which holds Gaddafi Stadium. Spectators were told to bring identity cards, and allowed to carry only mobile phones inside the stadium.
The extraordinary security made spectators pass through at least three checkpoints.
Tickets for both Friday's and Sunday's T20s were sold out within two days, after they went on sale this week.
"I've been waiting for this day for six years, and just can't wait for the real action to begin," Ahmed Ali, a university student, said as he took his seat.
Hundreds of home team fans - mostly youngsters - wandered around outside seeking the prized tickets.
Farhan Ishaque, who came from Faisalabad, was not sure of getting hold of a ticket but said he would not go home.
"It's a historic moment for Pakistan and I don't want to miss the atmosphere," he said.