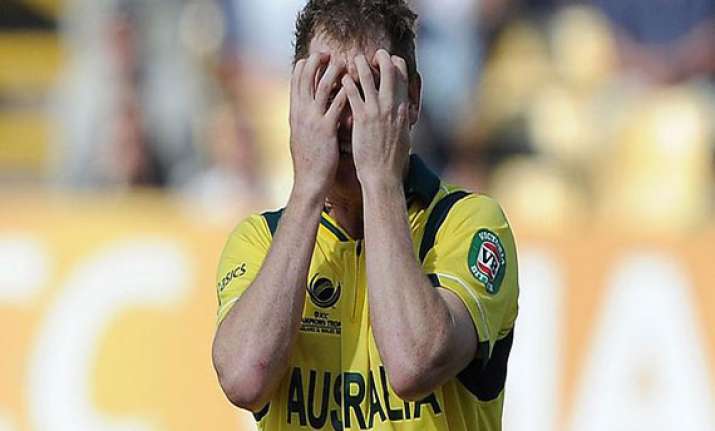 Mohali: Stunned from shocking mauling in Jaipur Australia captain George Bailey s backs his bowlers and says they will make a strong comeback against the Indians in the third ODI here Saturday.
India chased down the second highest target of all time,that too inside 44 overs, to shock the tourists in the second ODI in Jaipur and make it 1-1 in the seven-match series.     
Bailey said he is still quite "surprised" at the way the Indians chased down a mammoth total of 359 the other night but he would back his bowlers.     
"Personally, I like to back the group we have," the 31-year-old right-hander told a pre-match press conference at the PCA stadium here.     
"I want to give them chance that they can get on top of that Indian batting line-up," he added.     
Asked if he had spoken to his bowlers after the Jaipur debacle, Bailey replied, "Am I surprised that they got 362 in 43 overs, yeah, absolutely mate, that was phenomenal. I am still surprised about that a couple of days later, that was a phenomenal batting performance.     
"Absolutely we spoke (after the Jaipur game) and we speak after every game whether we win or lose, we always go through and dissect and have a look at what we could do differently. This game in Jaipur is no different."     
Bailey lauded his team's batsmen and said their performance is a massive plus for the visitors.     
"I certainly think we have batted quite well. I would never go as far as saying that we have got the measure of the bowlers. I think the wickets we have played on have been very very good batting wickets and it has been challenging for the bowlers on all of those pitches.     
"So it is probably more the conditions are in favour of the batsmen rather than anyone having the measure of the other one," he explained.
Despite mouling by Indian trio of  Dhawan, Rohit and Virat, Bailey can still have some hope of recovering as Mohali wicket helps fast bowlers.