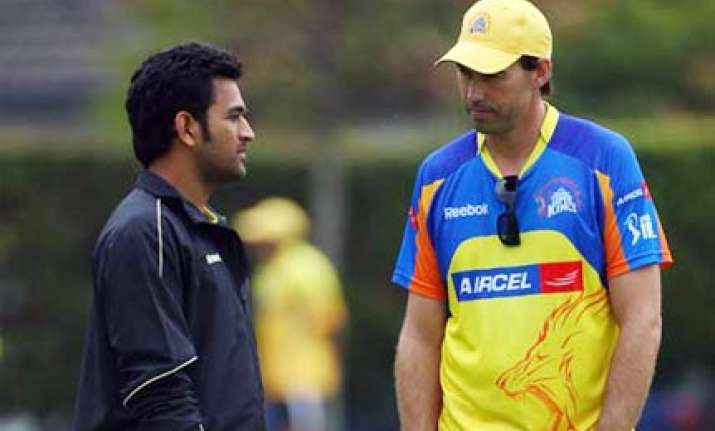 MS Dhoni might have joined the Chennai Super Kings squad at nets on Wednesday ahead of the team's clash with Mumbai Indians, but coach Stephen Fleming said that there were outside factors determining whether the Indian skipper would be able to take field, reports Indian Express.  
"We are analysing his complete fitness and there are also responsibilities to Indian cricket. There are a lot of interested parties. So, we have to be cautious about his return, but we are optimistic," he said.
Dhoni had injured his right elbow after being hit by a Shane Bond delivery during the match against Kolkata Knight Riders at Eden Gardens and was ruled out of three subsequent matches.
Fleming agreed it would be a major boost to the team if Dhoni did return. "He's been training, so it looks good. But we'll only take a call on his fitness tomorrow. We have to see how his arm reacts. We are happy at this stage but we will be cautious," the former New Zealand captain said.  
"It would be a psychological boost to have the skipper back, just good for the team morale. And it's great to have him around," he said.
Fleming also said that the loss to Kings XI Punjab, followed by the defeat to Royal Challengers Bangalore hurt the team.  
"The Punjab game was a big one to lose for us. That hurt. Then we faced a very good side in the Royal Challengers last night. It has been tough couple of days for us but we are still very positive.
Fleming also felt that winning 60 per cent of the matches would be enough to gain a top-four berth and that's what his team would be aiming at.  
"The history of the competition says it is going to come down to the wire. But we know that winning 50 or 60 per cent of the games will be enough. All we have to do is make the last four. We are realistic but we want to get back on the winning momentum," he said.