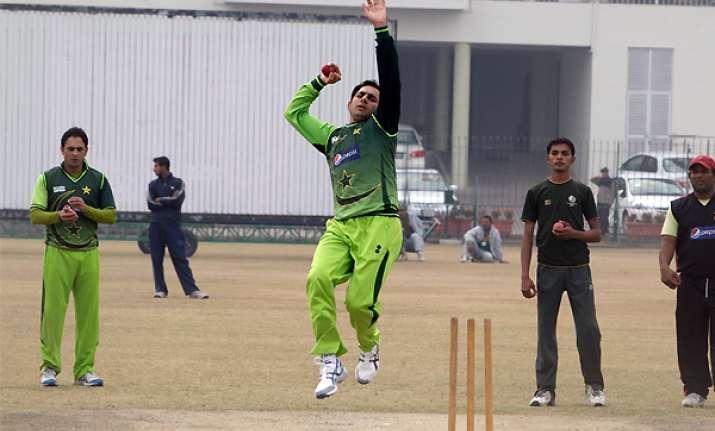 Dubai, Jan 22: England batsman Jonathan Trott believes the focus needs to be on stopping Saeed Ajmal's success rather than querying the legitimacy of his bowling action following the offspinner's 10-wicket haul to steer Pakistan to an emphatic win in the first test.

Pakistan won by 10 wickets on Thursday inside three days after Ajmal's starring performance, but former England cricketer Bob Willis is concerned about the spinner's action when he bowls his "doosra" delivery which spins away from the right-handed batsman.

"It's always going to happen if someone mentions it," Trott said Saturday of querying a bowling action. "Wildfire spreads quite quickly and it draws lot of attention on the individual.

"With regards to delivery action ... that wouldn't be beneficial for us to worry about — the legitimacy of someone's action. It's important that we win the next game and don't take our attention of that. You can easily caught up in the things going off the field and as a cricketer our job is to perform on it, and that's our job in the next test."

Ajmal's bowling action wasn't reported by on-field umpires Billy Bowden and Ben Oxenford to Indian match referee Javagal Srinath.

Trott said it was not his teammates' "job to do anything with regards to opposition players" in the remaining two tests of the series and should instead be left to the International Cricket Council.

"Yeah, it's their job," Trott said. "We've got to worry about ourselves."

Pakistan lost 3-1 to England in the acrimonious 2010 test series in which three Pakistan players were eventually found guilty of spot-fixing during the Lord's test and were eventually sentenced to jail in England. Ajmal took only 12 wickets in the series.
"I've played against the bowler in case before and we've been pretty successful," Trott said.

Ajmal's bowling action was first questioned during the 2009 tour of Australia before the offspinner took remedial measures — laid down by the ICC — and was back in international cricket the same year.

After an off day, England players trained on Friday before they leave for Abu Dhabi on Sunday for the second test, beginning from Wednesday.

"It was good to get out of last match and move on," Trott said. "It's really important that the guys have done that."

England has to double their efforts in staging a comeback into the series after its first loss in 13 months, since losing to Australia at Perth in December 2010.

England, who became No. 1 in the world in August after whitewashing India at home, has not won a test series against India, Pakistan or Sri Lanka on the subcontinent in a decade.

"I don't think it's too doom and gloom, honestly," Trott said. "It's a great challenge for the team. Probably England teams haven't been successful in the past ... and we have a great opportunity, we've a great bunch of guys and a good team to be able to do that, so I can't see why we can't do that."