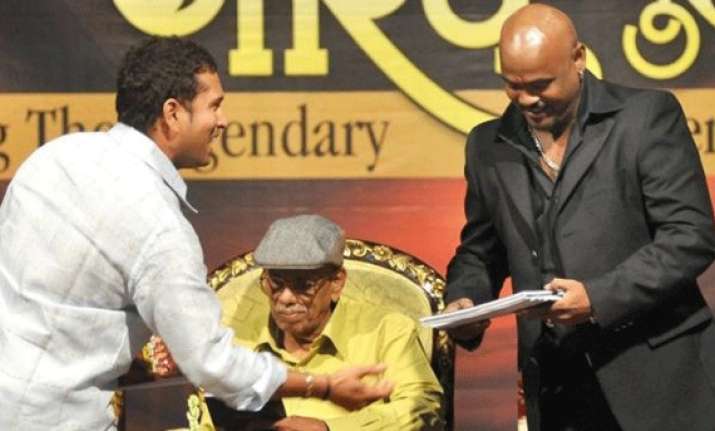 Former India batsman Vinod Kambli said that he took up to coaching on the advice of his friend and one-time teammate Sachin Tendulkar.  Tendulkar and Kambli were students of famed coach Ramakant Achrekar and both went to play for India and their friendship was well known to all. And Kambli credited Tendulkar for bringing him back on a cricket field, not as a player but as a coach. 
"When I retired from cricket, it had occurred to me, now what, I thought will do commentary or I was an expert on TV, But my love has always been cricket, so I got on to the field," Kambli said. 
The former left-handed batsman was speaking to reporters after a cricket coaching academy was launched at the Bandra Kurla Complex of the Mumbai Cricket Association, where Kambli will be conducting the sessions. 
"Sachin (Tendulkar) knows how much I love cricket, so he said to me why don't you start coaching, so I would say that I have embarked a path which he (Tendulkar) has shown and I have started on it," Kambli, the first Indian to score two back to back double hundreds, told reporters. 
"So I would say that he (Tendulkar) has a big hand in bringing me back on to the field. Whatever we have learnt from (Ramakant) Achrekar Sir, so I think the time has come, that to pass it on to the next generation, if the youngsters can take advantage of this, it will be great," Kambli, known for his flamboyant batting, added. 
According to Kambli, he would like to inculcate the values which he learnt from Achrekar to his students. 
"I would like to inculcate the values what Achrekar Sir has passed on especially getting the basics right all the time, whether you are playing for the school, or Ranji Trophy or for your country," Kambli said. 
"(The) one thing which I always remember which I am going to pass on to the students, usually people say practice makes a man perfect but my coach (Achrekar) Sir used to say perfect practice makes a man perfect, so that's how me and Sachin and all his students work towards having a perfect practice," he quipped. 
He said the role of a coach was 30 percent and that of the players was 70 percent. 
Asked how important was Vidharbha coach Chandrakant Pandit's role in their maiden Ranji Trophy win, Kambli said, "Chandu, everybody knows, he has been my coach as well, really enjoyed playing under him, all I can say is that 30 percent is the (role of) coach and 70 percent is the player but that 30 percent is equal to 100 percent.
(With PTI Inputs)