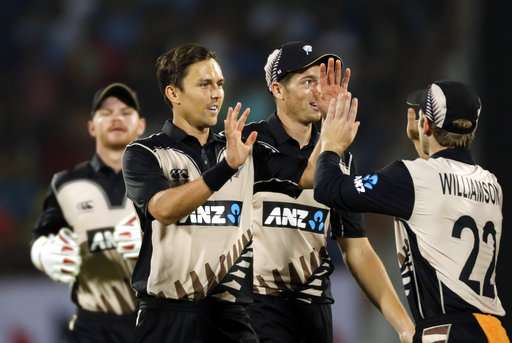 A contrasting performance from visitors after losing the first T20I against India in Delhi. New Zealand came back nicely and produced an inspiring performance to beat India by 40 runs in the second T20I  in Rajkot. The visitors followed the same old recipe, put on a massive total on board after batting first in the first innings and then the bowlers did their job to restrict the strong Indian batting unit. Colin Munro struck his second T20I hundred and played entertaining innings of unbeaten 109 to take Kiwis to a mammoth score of 196. 
The Indian chase never got off to a start as the hosts lose Shikhar Dhawan and Rohit Sharma in quick succession. Pacer Trent Bould was the pick of the bowlers for NZ, he finished with brilliant figures of 4-0-34-4. With this win, the Kiwis have levelled the 3-match T20I series 1-1. And the decider will be played in Thiruvananthapuram on November 7 on Tuesday. (SCORECARD)
HIGHLIGHTS, INDIA vs NEW ZEALAND, 2ND T20I AT RAJKOT
22.56 IST: Any guesses who is the Man Of The Match? You can clap for yourself as a prize. COLIN MUNRO could have done nothing wrong tonight. He could have as well won a lottery had he applied for one. Cheekily admits that a few chances went his way but he enjoyed playing those big shots. Credits the planning (of the NZ Board) to stage the 'A' tour before this series and says that helped him to acclimatize to the conditions. On being asked his mantra, he says it does not matter whether he is chasing or batting first. Just keeps his head still and does not pre-meditate, which is the advice given to him by coach Craig McMillan.
22.55 IST: Victorious Kiwi captain, KANE WILLIAMSON smiles and says that it was a contrasting performance from Delhi. He admits that to beat India one needs to be at his best and now their challenge is to replicate the same in the third T20I. Praises Munro for his century and also Guptill, for that brisk wonderful stand. Now, he praises Tom Bruce as well. Then he comes to the bowlers, does not praise every individual, but does praise them as a unit. On his two spinners doing well tonight, he says that one should always emulate from the strengths of the opposition and he has full faith and confidence in the experience of his two tweakers.
22.51 IST: Indian skipper, VIRAT KOHLI praises the Kiwi batting and says that India were expecting 225-230 at one stage. Credits Bhuvneshwar and Bumrah for pulling things back to keep New Zealand under 200 but quickly admits that the batting was not good enough. Stresses that while chasing a big total, it is never enough for only one batsman to keep scoring and every batsman needs to chip in. Adds that he tried his best, praises Dhoni for his hits towards the end but eventually, it did not help. Does not want to look too much into the promotion of Hardik Pandya and says that such gambles sometimes work, sometimes they don't. He is confident that both batsmen are good enough to bat at any position. Does admit that the surface started to grip a bit after 13-14 overs once the ball got scuffed up but does not want to give any excuses and makes a straight statement - not good enough with the bat.
22.45 IST: ISH SODHI says that it was a pretty fast wicket and jokes that the hundred was very special and Munro will remember it for the rest of his life. On his own bowling, he says that the ball got scuffed back a bit and he got plenty of assistance from the wicket. On the wrong 'un to dismiss Pandya, Sodhi says that he has been practicing it a lot in the nets and is just figuring out the right moment to bowl those. On being asked which ball he is more comfortable with - the leg-spinner or the googly - Ish says that you just need to keep practicing. Feels that winning tonight is a massive plus for his side. The presentation is coming up...
22.32 IST: We will have a decider in Thiruvananthapuram. Excellent bowling from New Zealand. Not quite sure whether 196 was a big enough score to defend but they have certainly made it look like that. The win has not been an over or two where the game might have swung. It is by a massive 40 runs which shows the strength of their bowling unit.
22.28 IST: Full on middle, pushed towards long on for one. That ends the match, with NEW ZEALAND WINNING BY 40 RUNS.  IND 156/7 in 20 overs
JASPRIT BUMRAH walks in at number 9, replacing Dhoni. 5-fer still on?
22.23 IST: OUT! Mr Butter Fingers takes it! Santner was the one to drop Dhoni in the previous over and it is Santner who denies MS his half century. A short ball, Dhoni looks to pull but gets a top edge which just spoons to square leg. Mitchell Santner does not have to move an inch and takes a sitter. A forgetful innings for Dhoni. IND 154/7 in 19.3 overs
22.21 IST: SIX! Oh, there is one more thing to look forward to. Can Dhoni hit six sixes and generate some interest in this game? A length ball, Dhoni swings it miles over mid-wicket! Just that it has come years too late. IND 154/6 in 19.1 overs
Okay. Final over. What do we look for in this match? A possible Boult 5-fer?
22.19 IST: FOUR! A full toss now, Dhoni whips it through square leg and gets a boundary.  IND 148/6 in 19 overs
22.16 IST: FOUR! Short and outside off, slapped to the cover fence for a boundary. India need maximums. IND 136/6 in 18.1 overs
22.15 IST: Full and outside off, driven towards long off for a run. 7 runs and a wicket from the over, Boult has figures of 3-0-26-3. IND 132/6 in 18 overs
BHUVNESHWAR KUMAR walks in at number 8, replacing Axar.
22.13 IST: OUT! Soft dismissal. Jumps down the track, Boult bangs it in short, Axar looks to go over cover but can only spoon it straight to Kane Williamson at short cover. Tonight might have been a big ask, but have to say - Axar has disappointed with the bat in his comeback to the national squad. IND 130/6 in 17.3 overs
22.11 IST: FOUR! That will help. Down the leg side, Axar flicks it fine enough of the man at fine leg to make the crowd clap for a boundary. 67 more needed from 16 balls now. IND 130/5 in 17.2 overs
TRENT BOULT is back on. India need a big over.
22.09 IST: Brilliant over from Santer comes to an end, 3 runs and a wicket off it. IND 125/5 in 17 overs
AXAR PATEL walks in at number 7, replacing Kohli.
22.07 IST: OUT! Stumped? Caught? It is a dismissal and that is what matters for New Zealand. Big moment in the game. Santner fires this onto the pads on seeing Kohli come down the track and the batsman looks to go inside out. He misses and the keeper collects the ball on the second attempt, after fumbling initially. He is overjoyed and appeals for the catch but then has the presence of mind to whip the bails off. Kohli knows he has edged it and does not even bother to get back. He departs for 65. The 56-run stand is broken but it consumed 44 balls. Did that consume the skipper? India now need 74 from 21 balls. IND 123/5 in 16.3 overs
Mitchell Santner is back in the attack.
22.04 IST: SIX! Gets it away this time! Dhoni comes down the track, Sodhi fires it on the pads but MS is too good a batsman to miss twice in a row. Swings it over mid-wicket for a biggie! 'India need half a dozen more of these', says Harsha Bhogle on air. 50-run stand comes up as well. IND 122/4 in 16 overs
22.00 IST: FOUR! CRISP! India need more of these. Full and outside off, Kohli comes down the track and drives it through extra cover. Kane Williamson chases it from long off but is beaten! 86 more needed from 31 balls now. IND 112/4 in 12 overs
ADAM MILNE is back on.
21.56 IST: Good end to the over from Ish Sodhi, he concedes 9 off it. IND 106/3 in 14 overs
21.53 IST: SIX! 100 up for India.  WHOOSH! That is why you should not miss chances, especially against MSD! Floated on middle, Dhani dances down the track and sends it swinging over long on!  IND 105/4 in 13.2 overs
ISH SODHI is back on.
21.51 IST: FOUR! Wristwork! Kohli at his best. Full and outside off, Kohli comes forward and whips it, making full use of his wrists, getting it wide of long on and beating mid-wicket in the deep! IND 97/4 in 13 overs
21.48 IST: FIFTY! 18TH T20I Fifty for Kohli! He needs to stay till the end to take his team past the line tonight. Comes down the track and pushes it through the covers for one. IND 87/4 in 12 overs
21.47 IST: FOUR! Terrific shot. Sees the flight and jumps down the track to take it on the half volley. Thumps it over the bowler down the ground for another boundary in that region. IND 86/4 in 11.5 overs
MITCHELL SANTNER is back on. Has gone for 20 in his 2 overs.
21.44 IST: FOUR! CLASSY! Full and straight, Kohli drives this right back to where it came. Back past the bowler down the ground. Fab shot. Who says T20 is all about hitting powerfully? 118 more needed from 54 balls now. IND 79/4 in 11 overs
21.41 IST: A successful over from Sodhi comes to an end, 4 runs and a wicket from it. IND 71/4 in 10 overs
MS Dhoni is the new man in. The crowd is roaring high for him. Let's see if he can hit some biggies tonight.
21.37 IST: OUT! Bowled! Sodhi dismisses Pandya yet again. He gets the better of him twice in as many games. Bowls an excellent googly on middle, Hardik doesn't pick it up at all. The ball skids, cramps him for room and sneaks under the bat to hit the stumps. Lovely from Sodhi, he is continuing from where he left off. India under pressure now. IND 67/4 in 9.1 overs
Hardik Pandya walks in next. India need 132 from 68 balls. Remember, he was out for a duck in the last game.
21.34 IST: OUT! Munro strikes! He can do nothing wrong today! What a day this man is having! Bowls a slower delivery outside off, Iyer looks to big down the ground. Gets it off the toe end of the bat and the ball lobs over the bowler. Munro keeps running backwards, keeps his eyes on the ball and then stretches his hands to take an excellent catch. The ball almost popped out of his hands. These catches are never easy. Iyer departs and a wicket at the right time for the Kiwis.  IND 65/3 in 8.4 overs
Colin Munro is brought into the attack. He had an excellent outing with the bat, can he do it with the ball too?
21.31 IST: SIX! Fifty-run stand completed between Kohli and Iyer. Floated delivery around middle, Kohli dances down the track and lofts it with pure timing over the long on fence for a maximum. IND 62/2 in 8 overs
21.30 IST: NOT OUT! An arm ball around middle and leg, Kohli tries to be cheeky here. He attempts for the reverse sweep but seems to have gotten an inside edge there. Santner keeps appealing but the rest of the fielders are caught napping. The batsmen run through for a single. Mitchell has a word with Williamson and takes the review. Snick shows no inside edge. Hawk Eye shows it's in line but would have missed the leg stump. NZ waste a review here! A leg bye added to the total. IND 54/2 in 7.3 overs
21.28 IST: New Zealand have taken an LBW review against Kohli. Seems to be an inside edge there.
21.27 IST: FOUR! 50 up for India. Lovely shot! Floats it up outside off, Kohli dances down the track and lofts it inside out over cover. Neat and tidy! IND 53/2 in 7.2 overs
21.26 IST: FOUR! Sliced! Full toss on the stumps, Kohli comes down the track to drive but slices it between cover and point for a boundary. IND 49/2 in 7.1 overs
21.25 IST: Goes deep and whips it through mid-wicket for just a single. 5 from the over! Good one for NZ! IND 45/2 in 7 overs
Spin from both ends now. Ish Sodhi is brought into the attack.
21.22 IST: Tossed up outside off, eased down to long off for a single. Excellent from Santner, just 3 off it inside the Powerplay. IND 40/2 in 6 overs
Mitchell Santner is brought into the attack. We saw Chahal going for 17 in the Powerplay, will the Indians target the spinner here?
21.19 IST:  A bit of a hesitation! Back of a length outside off, Iyar taps it towards cover and sets off. Seeing Santner charging in from cover, Kohli sends Shreyas back. Needs to be careful here. Brilliant over from Milne, 2 runs off it. IND 37/2 in 5 overs
Adam Milne is back for New Zealand.
21.15 IST: FOUR! Down the track and bang! Slower delivery on middle, Kohli skips down the track and flat-bats it down the ground for a boundary to end the over. 14 off it! IND 35/2 in 4 overs
21.14 IST: FOUR! Crashed it! Anything in the channel outside off, Iyer has decided to go after it. He cuts it square on the off side and i goes racing towards the fence. IND 30/2 in 3.4 overs
21.13 IST: FOUR! Just a chip! Fuller in a length, a bit of curl inward, Kohli just chips it down the ground. All about timing as the ball goes over the man at mid-on for a boundary. IND 25/2 in 3.1 overs
21.12 IST: FOUR! That's flayed! Iyer is in mood! A bit short and outside off, Shreyas once again cuts and cuts hard. Gets it past backward point for another boundary. IND 21/2 in 3 overs
21.09 IST: FOUR! Thrashed! Shortish and outside off, room on offer too. Iyer gets on top of the bounce and slaps it through point for a boundary to welcome the bowler. IND 15/2 in 2.1 overs
The skipper, Virat Kohli walks out to bat next. There is a bowling change too. Colin de Grandhomme is brought into the attack.
21.08 IST: OUT! Two wickets in the same over for Boult! What a start for the Kiwis! Both the Indian openers are sent packing early. Once again Boult slants it away on a length outside off, Sharma just tries to use the pace and guide it away. It goes towards the keeper and New Zealand put in a loud appeal. The umpire after thinking for a while raises his finger. Rohit walks back dejected.  IND 11/2 in 2 overs
21.06 IST: FOUR! Off the mark in style! Boult serves it full and sprayed wider outside off, Iyer leans into it and drives it through point for a boundary to open his account.
IND 10/1 in 1.3 overs
Shreyas Iyer comes ahead of Kohli. He didn't get a chance to bat in the last game. He would be looking to make the most of this opportunity.
21.04 IST: OUT! Bowled 'em! Trent Boult is up and running! Perfect start for the Kiwis this! He bowls a length delivery, angling in from around off. Dhawan tries to heave it across the line but misses and sees his middle stump pegged back. Superb from Trent and India have been rocked early. IND 6/1 in 1.2 overs
Trent Boult to bowl from the other end. He was taken for aplenty in the last game. Can he redeem himself tonight?
21.02 IST: A bit short on middle, Shikhar tucks it through mid-wicket and scampers through for a quick single to get off the mark. Just 6 from the first over by Milne. IND 6/0 in 1 over
20.58 IST: FOUR! Rohit Sharma is underway! Milne drops it short outside off, sits up at a good height too. Rohit stands tall and pulls it handsomely over mid-wicket for a boundary. IND 4/0 in 0.2 overs
20.56 IST: We are back for the run chase after a delay. Tighten your seatbelts, folks. Going by the way the Indian openers batted in the last game, their side would be hoping for the same tonight as well. Rohit Sharma and Shikhar Dhawan stride out in the middle. It will be Adam Milne to start off with the bowling proceedings. A slip in place...
20.45 IST: What has happened here? We should have been underway by now but there is a FLOODLIGHT FAILURE in the ground which is why we are in for a bit of a delay...
20.40 IST: 197 is the target then for India to go 2-0 up. The only T20I at this venue saw the home side chase down a mammoth 202 against the mighty Aussies in 2013. Considering that the Indians fancy themselves chasing, they would be confident. Stay tuned.
20.35 IST: COLIN MUNRO feels that the total is about par on this surface. Says that Guptill and he bat pretty well together and got a good start today, feeding off each other pretty well. Feels that there is definitely something for the bowlers on the surface and this total should be good enough.
20.33 IST: If you have just tuned in, you might say - Oh dear - 197 is too tall a task. But just 22 runs came in the last 3 overs which shows how well India have done to curtail New Zealand under 200. They did not pick a single wicket in the last 5 overs but will be happy with the target set.
20.30 IST: 
New Zealand 196/2 in 20 overs (Munro 109*, Guptill 45) #INDvNZ pic.twitter.com/sZBg7dOf4C

— BCCI (@BCCI) November 4, 2017
20.27 IST: That is why fine leg was pushed back. Full and in line of the stumps, Bruce swings hard but gets a thick inside edge which goes past the leg stump towards fine leg. Just a single. Pretty surprising not to see the batsmen go for the second. NEW ZEALAND FINISH ON 196/2 in 20 overs
20.25 IST: FOUR! Nicely done! A length ball on the leg stump, Munro gets across and works it past short fine leg for a boundary! NZ 194/2 in 19.3 overs
20.23 IST: 
T20I century #2 for Colin Munro! Seven sixes and six fours to bring up the milestone off 54 balls #indvnz #century pic.twitter.com/kfjTj9D0Er

— BLACKCAPS (@BLACKCAPS) November 4, 2017
Last over then. Can the Kiwis get to 200?
20.22 IST: HUNDRED! SECOND T20I TON FOR MUNRO! A wonderful innings. Filled with luck and lives but that does not take away the beauty of the knock. Full and wide outside off, Munro drives it to sweeper cover and comes back for the second. Becomes only the FOURTH PLAYER after Gayle, McCullum and Evin Lewis to have multiple T20I hundreds. NZ 183/2 in 18.3 overs
20.19 IST: A full ball, on middle, hit straight back. Bumrah gets a boot to it and slows the pace down towards long off. Just a run. Excellent over - just 5 from it.  NZ 179/2 in 18 overs
JASPRIT BUMRAH to bowl now.
20.14 IST: The batsman has flicked the ball off his pads. One run added to the total. That is it for the debutant Siraj tonight. Assuming he does not get to bat. 4-0-53-1. Tough outing. NZ 174/2 in 17 overs
20.13 IST: FOUR! Cheeky from Bruce! Full and around off, Bruce gets across and paddles it over the keeper and short fine leg for a boundary. Cannot keep a fielder there.  This is now the HIGHEST T20I SCORE by a Kiwi batsman against India. NZ 172/2 in 16.4 overs
20.10 IST: SIX! Another mistimed hit! A fuller ball, in line of the stumps, Munro looks to play the slog but does not quite connect cleanly. The ball goes high in the air and Virat Kohli steadies himself for the catch at long on. But two factors go against him - 1. The short boundary. 2. Munro's luck. NZ 164/2 in 16.1 overs
20.09 IST: FOUR! Smart batting. The ball is on the pads, Bruce knows that the man at 45 on the leg side is inside the ring. Just tickles it past Jasprit Bumrah at short fine leg and gets a boundary. 11 from the over but Bhuvi has gone for just 21 in his 3. NZ 159/2 in 16 overs
20.08 IST: FOUR! 150 comes up for New Zealand. Munro might as well beat Usain Bolt in a 100-metre sprint tonight. So good is his luck.  Full and wide outside off, Munro flashes hard, gets an outside edge but it is wide of Dhoni and races away to the third man fence. NZ 153/2 in 15.4 overs
20.06 IST: DROPPED! Another poor effort in the field. It was New Zealand the other night. It is India here.  Outside off, on a length. Munro backs away and looks to go inside out but miscues it in the air. It should have been a catch and Yuzvendra Chahal runs back from point, calls for it, gets to the ball but puts it down. Might have been easier for Virat Kohli running in from sweeper cover. A single taken. NZ 148/1 in 15.1 overs
Here is BHUVNESHWAR KUMAR. In the third ODI, the duo of Bhuvi and Bumrah defended 35 off 4 overs successfully in the death. Can they restrict the Kiwis under 200 here?
20.04 IST: FOUR! Tough luck for the bowler. Siraj bowls a very good yorker outside leg, Munro looks to dig out but somehow manages just a fraction of his bat on the ball. It is good enough as the ball goes through his legs, past the leg stump and then the keeper to the fine leg fence. NZ 147/2 in 15 overs
TOM BRUCE walks in at number 4, replacing his captain.
20.01 IST: OUT! Straight to the man! Maiden international wicket for Mohammed Siraj! Proud moment for him. Not the best of balls, a half volley around the middle and off, should have been put away. Williamson goes for the half-flick, half-scoop but finds Rohit Sharma to perfection at deep square leg. Perhaps not a bad wicket to lose for New Zealand. India will not mind though.  NZ 140/2 in 14.2 overs
20.00 IST: FOUR! Pleasing to the eye!Full and wide outside off, Williamson leans and lofts it over covers for a boundary! NZ 140/1 in 14.1 overs
MOHAMMED SIRAJ gets his third over.
19.59 IST: SIX! Another one. A short ball, around off, Munro goes for the pull but gets a bit high on the bat. However, again those 5 letters - P-O-W-E-R - take the ball over deep mid-wicket. 14 runs from Pandya's first over. NZ 136/1 in 14 overs
19.57 IST: FOUR! Hardik went for the yorker and offered a low full-toss, Munro gets underneath it and smacks it over the bowler's head at long-off. NZ 128/1 in 13.3 overs
19.56 IST: HARDIK PANDYA comes on to bowl his first over.
19.55 IST: FOUR! Dragged short, Williamson goes back and heaves it through mid-wicket. Splits deep square leg and deep mid-wicket to perfection. 14 from the over, Axar has gone for 39 in his 3 tonight. NZ 122/1 in 13 overs
19.53 IST: SIX! Another flat hit. Full and outside off, Munro gets down and mows it over mid-wicket for half a dozen. NZ 117/1 in 12.4 overs
19.52 IST: RUN OUT CHANCE MISSED! India have been sloppy on the field tonight. Williamson pushes it to the off side and sets off for a quick single. Rohit Sharma comes charging in and should have affected an easy run out with Munro yards short. But he throws it wide of Dhoni who struggles to collect. Chahal finishes with figures of 4-0-36-1. NZ 108/1 in 12 overs
19.51 IST: NOT OUT! Not quite sure why this was taken in the first place. Dhoni said that he was blinded and Kohli has gone purely by his bowler's instincts. Full and outside off, Williamson looks to sweep but misses. The ball lobs off something in the air and takes the catch. Chahal appeals but nothing from Dhoni. Snickometer shows a disturbance as the ball passes the bat, not quite sure from where. But the third umpire is convinced that it is not the edge. NZ 107/1 in 11.4 overs
19.48 IST: Review time! India reckon that they have Williamson caught behind. Not given by the onfield umpire and Kohli wants a second opinion.
KANE WILLIAMSON walks in at number 3, replacing Guptill.
19.45 IST: OUT! Stop the press. A wicket has fallen. Excellent bowling from Chahal. He gives this just a little bit of more loop than the previous one and Guptill lines himself up for the slog sweep. But he is not to the pitch of the ball and ends up mistiming it high in the air. Hardik Pandya at long off keeps his eyes on the ball and takes it easily. No half-century for Guptill but he has played wonderful innings. Can his team make use of this 105-run opening stand? NZ 105/1 in 11.1 overs
19.44 IST: SIX! DROPPED! Oh dear... Shreyas Iyer is the culprit. Short and outside off, Munro goes back and looks to pull it over long on. Does not time it well and Iyer in the deep settles himself for the catch but to his horror, the ball bounces off his palms over the boundary. Kohli shakes his head. 21 runs from the over! NZ 1040 in 11 overs
19.43 IST: SIX! WHAM! Who wants to be a bowler on this surface? Full and outside off, slogged over deep mid-wicket for half a dozen. NZ 98/0 10.5 overs
19.41 IST: FOUR WIDES! Axar is smiling and looking helplessly at Dhoni, as if to suggest he should have taken that. Full and fired down the leg side, pretty intentional, perhaps expecting the batsman to come down the track. Munro doesn't. Stays back and looks to flick but misses. Dhoni is blinded and cannot collect. NZ 90/0 in 10.2 overs
19.40 IST: In the air... what an effort from Kumar in the deep! Superb work from Bhuvi there. A bit short on middle, Munro camps back to pull but seems to have mistimed it. The ball travels high in the air towards mid-wicket where Kumar keeps his eyes on the ball, leaps and then pushes the ball back in play. Saves 5 runs for his side and Rohit Sharma likes it. NZ 83/0 in 10 overs
19.38 IST: SIX! That's gone into the orbit! Noting Chahal can do about it. He saw Guptill coming down the track and so fires it around the pads. Guptill in this mood doesn't miss out. He gets down and slogs it with all his might. High and over deep square leg for a maximum. NZ 79/0 in 9.3 overs
Yuzvendra Chahal is back on.
19.36 IST: Flatter one on the middle, Guptill punches it back to Axar. Excellent over from Patel, just 4 off it. NZ 72/0 in 9 overs
Axar Patel is brought into the attack. He was very economical in Delhi. Can he draw first blood?
19.33 IST: SIX! That's gone the distance! Siraj is having a tough time! Once again bowls a slower one, it's on a perfect length to be hit. Munro thumps it over deep mid-wicket for a maximum. Seemed like he mistimes it but who cares? 16 from this over. Siraj has already given 26 in 2 overs. NZ 68/0 in 8 overs
19.32 IST: SIX! He has muscled it! A flat maximum! Superb hit, what power! Length delivery from Siraj, Munro clears his front leg and goes bang down the ground. Sails it easily over the long on fence. NZ 60/0 in 7.4 overs
Mohammed Siraj is brought back into the attack. He went for 10 in his first over.
19.29 IST: Flatter on middle, Munro reverse pulls it through cover-point for a single. Good comeback from Chahal. After being hit for 17 in the previous over, he gives just 4 in this one. NZ 52/0 in 7 overs
19.26 IST: FOUR! Slapped! Bumrah angles it away this time, it's on a length outside off. Munro cracks it square of the wicket on the off side and Axar at point had no chance to stop that one. NZ 48/0 in 6 overs
19.22 IST: Quicker through the air around middle and off, Munro gently defends it down. Huge over this, 17 off the over! What a start from New Zealand. NZ 41/0 in 5 overs
19.21 IST: SIX! He has nailed it! Guptill wasn't even looking at it. He knew he has picked the bones out of that one. Loopy delivery around middle and off, Guptill gets down and wallops it off the meat of the bat over deep mid-wicket for a maximum. That swirled up very high in the air.  NZ 40/0 in 4.4 overs
19.20 IST: FOUR! Easily done! More flight, a bit fuller on the stumps, Guptill once again launches it over Rohit Sharma at mid on and picks up a boundary this time.   NZ 34/0 in 4.3 overs
19.19 IST: SIX! Shot! Guptill goes through with his shot! Chahal tosses it up on the stumps, Guptill clears the front leg and smokes it over long on for a maximum. NZ 30/0 in 4.2 overs
Yuzvendra Chahal to roll his arm over. A slip in place for the leggie.
19.18 IST: Good ball that from Bumrah! He sees Munro clearing the front leg and so rolls his fingers on the ball. Colin just dabs it towards point and crosses over.  A fine over from Bumrah, just 3 runs from it. NZ 24/0 in 4 overs
So just an over from the debutant. Kohli calls Jasprit Bumrah into the attack now.
19.13 IST: FOUR! Kumar goes around the wicket and bangs in a short ball on middle. Munro just helps it through square leg. Dhawan in the deep tries to stop it but the outfield is quick to deny him. NZ 21/0 in 3 overs
19.08 IST: Back of a length delivery outside off from Siraj, dabbed towards gully for a quick single. 10 from Siraj's first over. NZ 15/0 in 2 overs
Just a boundary and the field is changed straightaway.
19.07 IST: FOUR! That's smacked! Guptill stands tall, gets a length delivery and bashes it with all his might past mid off for a boundary. NZ 14/0 in 1.4 overs
19.05 IST: FOUR! What a shot! Welcome to the international arena rookie! He comes from around the wicket and slants it away on a length. Offers a bit of width and Munro cracks it beautifully between cover and point to get going. NZ 9/0 in 1.1 overs
Mohammed Siraj gets the new ball. So the skipper is trusting the debutant. Let's see how he fares in.
19.04 IST: Tight over from Bhuvneshwar apart from that one boundary, 5 runs from it. NZ 5/0 in 1 over
19.02 IST: FOUR! And New Zealand are underway! Kumar targets the stumps but is a bit too straight on this occasion. Guptill takes full toll of it as he swings it cleanly over mid-wicket to pick up a boundary to his name. NZ 4/0 in 0.3 overs
18.59 IST: It's done and dusted. And now it's time to get underway. The Indian team is in a mandatory huddle. Mohammed Siraj, the debutant is all ears to the words being shared by Virat Kohli. Out walk the Kiwi openers, Martin Guptill and Colin Munro. The former will be itching to get going here tonight and he couldn't have asked for a better surface. It shall be Bhuvneshwar Kumar to steam in first up. A slip in place for him. Let's play...
18.56 IST: Both teams are making their way to the centre for their respective National Anthems.
18.51 IST: 
Covering all bases #TeamIndia gears up for the 2nd T20I against New Zealand #INDvNZ pic.twitter.com/B2HsGTXQYr

— BCCI (@BCCI) November 4, 2017
18.45 IST: 
A moment to cherish for young Mohammed Siraj as he makes his debut for India today #INDvNZ pic.twitter.com/0ttCZpLeoo

— BCCI (@BCCI) November 4, 2017
18.41 IST: Teams:
New Zealand (Playing XI): Martin Guptill, Colin Munro, Kane Williamson (C), Tom Bruce, Glenn Phillips(w), Henry Nicholls, Colin de Grandhomme, Mitchell Santner, Adam Milne, Ish Sodhi, Trent Boult
India (Playing XI): Rohit Sharma, Shikhar Dhawan, Virat Kohli (C), MS Dhoni (wk), Shreyas Iyer, Hardik Pandya, Axar Patel, Bhuvneshwar Kumar, Jasprit Bumrah, Yuzvendra Chahal, Mohammed Siraj
​18.35 IST: Virat Kohli says they wanted to bowl anyway. Adds they support staff came later in the evening yesterday and saw some dew. Further, says he doesn't know the mindset of the Kiwis, maybe they don't want the scoreboard pressure. Be in anything, it gives them the opportunity to come out and restrict them to a respectable total. Opines the pitch won't change that much and reckons should be a good batting wicket. On the team changes, he says Ashish Nehra is obviously not round and they bring in MOHAMMED SIRAJ (debut). States they debutant has had a good domestic season and hopes that he starts his career on a good note.
New Zealand wins the toss. Elects to bat first in the 2nd T20I #INDvNZ pic.twitter.com/dWkmG3DX8g

— BCCI (@BCCI) November 4, 2017
18.32 IST: Kane Williamson says they will bat first. Adds it looks a good surface and hopes to get good runs on the board and then defend it down later. Informs they have made two changes. ADAM MILNE AND GLENN PHILLIPS come in for Tim Southee and Tom Latham.
18.31 IST: TOSS - Kane Williamson wins the toss, New Zealand to bat first.
18.25 IST: Pitch Report: "It is a lovely stadium and the crowd should get their worth," are the overtly loud Simon Doull and Sunil Gavaskar. "This track is as flat as I have seen. So it is never going to make a difference whether you bat or bowl first. There is should dew coming in but that wouldn't make much of a difference. Runs galore. Look out for boundaries, sixes, fours, plenty of them."
18.20 IST: Hoping for a better outing this time, Black Caps will take the cue from the fact that their head-to-head record against the hosts still reads 5-1.
18.10 IST: New Zealand look to bounce back in the T20I series with a win at Rajkot. The Saurashtra Cricket Association Stadium has also been termed as a made in India's version of England's 'Lords'.
18.00 IST:
🏆 @Paytm T20I Series #INDvNZ
📅 Nov 4| ⌚ 7 PM IST
📱💻🎥📷🔢 https://t.co/CPALMGgLOj
📺 @StarSportsIndia pic.twitter.com/fQbIc5IXwM

— BCCI (@BCCI) November 4, 2017
Brief Preview - 
India are poised for their third T20 International series triumph in five years but would be wary of a strong fightback from the usually plucky New Zealand when the two sides clash in the second game of the three-match series tomorrow in Rajkot.  
The comprehensive 53-run victory in the series opener at Delhi has put India firmly in the saddle for sweeping to a winning 2-0 lead at the Saurashtra Cricket Association Stadium here in Kandheri. 
The resounding victory, riding on the exhilarating batting exploits of their top-order and, in particular, openers Shikhar Dhawan and Rohit Sharma, was the country's first-ever over the Kiwis in the shortest form of the game.  The 2007 World T20 champions have produced impressive death bowling with Bhuvneshwar Kumar and Jasprit Bumrah leading the pace department, while the spinners also pitched in with some excellent bowling in the middle overs. (READ FULL PREVIEW HERE)