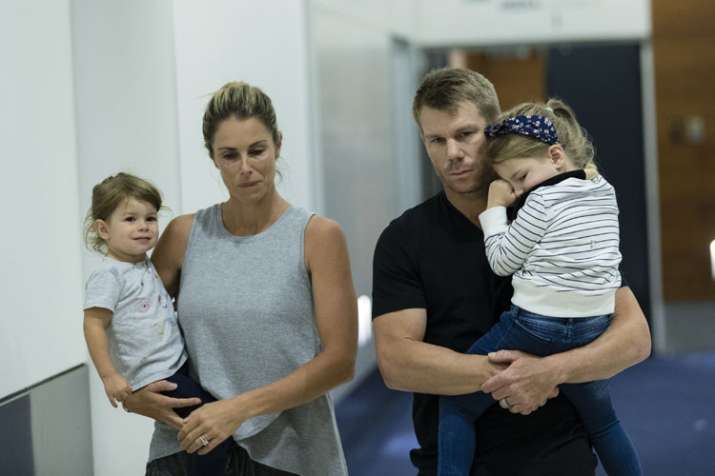 Candice Warner, the wife of tainted former Australian vice-captain David Warner, has revealed that she had suffered a miscarriage in the aftermath of the massive ball-tampering scandal that sent shock waves through the cricket world.
Warner, along with former skipper Steve Smith, was handed a one-year ban from both domestic and international cricket while wicket-keeper batsman Cameron Bancroft was given a suspension of nine months for their involvement in the ball-tampering scandal that took place during the third Test of the four-match series against South Africa in March this year. (Also Read: David Warner is seriously struggling, not in a great headspace, says wife Candice)
Candice has revealed that she lost her baby a few days after Warner's first press conference post the scandal in Sydney where he emotionally apologised "unreservedly" for his misdoings.
She, meanwhile, insisted that stress and taunting that her family has received following the scandal was the main reason behind her miscarriage.
"I'd have to be bullet-proof for the taunting not to have affected me. It rocked my very foundation and I paid the ultimate price, losing our baby. I wonder how all those who came after me feel now?," Candice told the The Australian Women's Weekly.
Warner's wife then described the couple's devastation on realising she had a misscarriage. (Also Read: Have learnt valuable lesson after ball-tampering scandal, says David Warner)
"I called Dave to the bathroom and told him I was bleeding. We knew I was miscarrying. We held one another and cried. The miscarriage was a heartbreaking end to a horror tour. The ordeal from the public humiliations to the ball tapering had taken its toll and, from that moment, we decided nothing will impact our lives like that again," she revealed.
Candice further said that she learned about her pregnancy when they arrived in Cape Town ahead of the third Test.
"We were overwhelmed, knowing another little Warner was on the way," she said. "I don't think either of us realised how much we longed for this baby," she said.
The couple has two daughters, three-year-old Ivy Mae and two-year-old Indi Rae.