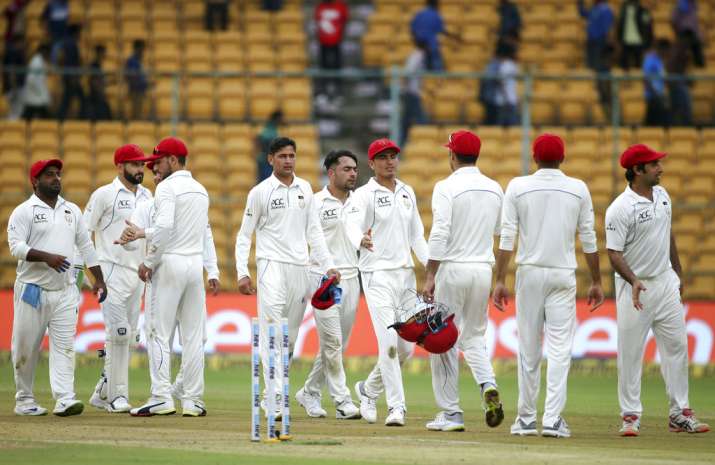 After making their Test debut against top-ranked India, Afghanistan are all set to play a historic Test match against Australia in 2020, according to the International Cricket Council's (ICC) extended Future Tours Program released on Wednesday.
Afghanistan recently became the 12th side to feature in men's Test cricket when they played against India in a one-off historic Test match, which the home side went on to win by an inning and 262 inside two innings. Afghanistan will now play a Test match against Australia prior to the Border-Gavaskar Trophy, featuring four-match Test series down-under in 2020-21.
The extended FTP released by the ICC further includes New Zealand playing Tests against Australia during the Christmas-New Year period of 2019-20. The tour will mark New Zealand's first-ever Boxing Day Test appearance in Melbourne since 1987.
According to the ICC document, nine top-ranked sides will participate in the inaugural edition of the World Test Championship, which will run from 15 July 2019 to 30 April 2021. The sides will play six series in the two-year cycle on a home and away basis against opponents they have mutually selected. The two top-ranked sides will then progress to the June 2021 final to decide the World Test champions.
However, the newly-appointed Test-playing nations will not appear in the tournament/showdown along with trouble-stricken Zimbabwe.
Meanwhile, the five-Test Ashes series will be included in the new Championship structure with Australia travelling to England in 2019 before the latter side return to the island continent in 2021-22. Australia are also slated to tour South Africa for Test series in February-March 2020 before the latter team will reciprocate in 2022-23, including their first-ever Boxing Day Test since 2008. Australia will also play Tests in Bangladesh in February 2020 before they will host a series against Pakistan in the first part of the 2019-20 summer.
Cricket Australia Chief Executive James Sutherland said that the scheduling of Test and ODI matches would now be monitored by the ICC keeping in the sight the Test Championship.
"For both Test cricket and one-day cricket going forward, we won't have a choice about who we play - that will be determined by the cycle and will be done by the ICC," cricket.com.au quoted Sutherland, as saying.
In addition, the 12 Test playing nations and the Netherlands, will participate in the 13-team ODI League, which will run from May 1, 2020, to March 31, 2022, and all the sides will play eight series over a two-year cycle on a home and away basis against mutually agreed opponents.
(With ANI Inputs)