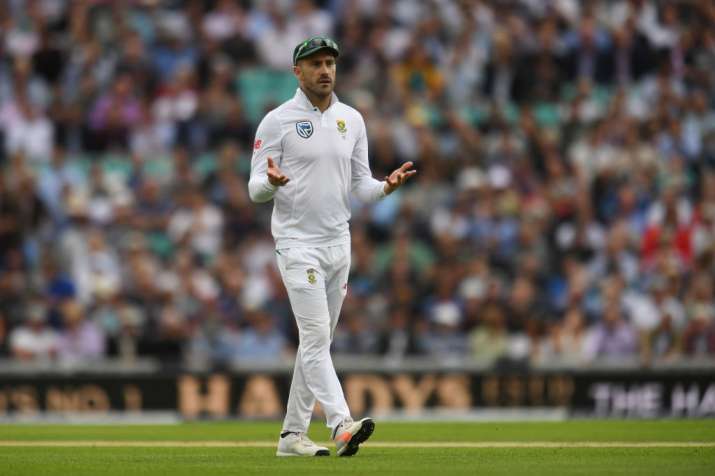 South African skipper Faf du Plessis said the hosts were not upto the mark in the third Test and they didn't make good use of the opportunities that came their way during the four days. The wicket was  as such which Team India took advantage of and bowled out the Proteas batsman on the fourth day of the third and final Test of the three-match series. The Virat Kohli led side manage to salvage a win at the wanderes but lost the series 2-1.
"To be hard on ourselves, we weren't on top of our game from the start. Even in the first innings, I thought the total that they got 189 or whatever it was probably 30 runs too many," he said after losing the 3rd Test by 63 runs.
"I can remember Virat having 2-3 chances. So it all adds up. Even the second innings, they got 220 and they should have been 180. So the last innings we should have chased 160 or something like that," du Plessis added.
The skipper also blamed the sloppy fielders and bowlers for not bowling to the wicket.
"It wasn't a great Test match for our skills. We dropped quite a few catches. I think especially on this wicket you need to make sure you zone in on the wickets and bowl quite straight lines," du Plessis said.
"I thought in both innings, we were a little bit short and wide for most of the Indian innings, which gave them the opportunity to leave a lot more. From a batting perspective we felt that the Indian bowlers made us play a lot more."
The Proteas won the series 2-1 after losing the third Test by 63 runs as India maintained their unbeaten record at Wanderers.
Du Plessis credited the Indian team for exploiting the conditions better than the Proteas.
"The Indian bowlers are very successful in these conditions. So that's something we've got to remember when we play them here next time, that why is it that they are successful here," he said.
"Obviously you could see that their bowlers were a real handful in this Test match. And credit to their batters, they put their hands up and put the runs on the board."
The Wanderers' pitch came under sharp scrutiny on day 3 when play was halted due to sharp bounce as a lot of batsmen got hit. After a lot of deliberation, the match officials decided to continue the match.
Du Plessis said: "I don't think so (that it was dangerous on) days one and two. The only time I got a little bit concerned was when Dean got hit in the face. That's when I got a little bit concerned for player safety.
"Even in Indian innings, there were quite a few guys that got hit on the fingers quite regularly.
I think if you count the number of times guys got hit it was much more than usual.
"You know excessive sideways movement is tough but not dangerous. As soon as guys started getting hit from a length, that's when we thought it might be dangerous. But surprisingly the pitch played fine again today. So we had the opportunity to chase down the game and we didn't do that."
There has been a lot of chatter about nature of pitches in this Test series and the Proteas' skipper defended his demand for wickets with pace and bounce.
"Whether it's one percent or five percent or ten percent whatever you can you must try and get an advantage against opposition. When we go to India, we certainly don't play on flat, green tracks," he said.
"And I assume that there would be a similar conversation happening there. For me it's just making sure that there's a conversation happening with the management of our team and also the groundsman about the conditions that would be ideal for a Test series. This Test series we didn't get that, and I can't give you the reason for that.
Dean Elgar and Hashim Amla put on 119 runs for the second wicket and South Africa were placed at 124/1 at one stage and du Plessis praised the duo for their gritty innings.
"We were positive. It actually played quite nicely in that first session. Mentally, we wanted to have one partnership and Dean and Hash played really, really well. Then the nature of how the game and wickets progressed, it gets a bit tricky in evening," du Plessis said.
"But the partnership the two of them put on was extraordinary, especially after last night. It takes two very, very strong minds to get through something like that to come back the next morning and score runs.
"So, although we're very disappointed with the loss, there's a lot of credit that goes to the two of them," said du Plessis.
Now the two teams look forward to the six-match ODI series starting in Durban on February 1.
The skipper said they would carry a lot of confidence from the series win to the ODI series starting on February 1.
"ODIs are a different set-up of guys. We take a lot of confidence from the series win against India. We think that's something that's very important for everyone to remember. Although as a team we are extremely disappointed (to lose this Test), we beat the no.1 Test team in the world," he said.
"Even though it's in our home conditions, they came over here very confident and expecting to beat us. And we played brilliant cricket in the first two Tests, and in this Test we weren't at our best and they beat us," he added.
(With PTI Inputs)