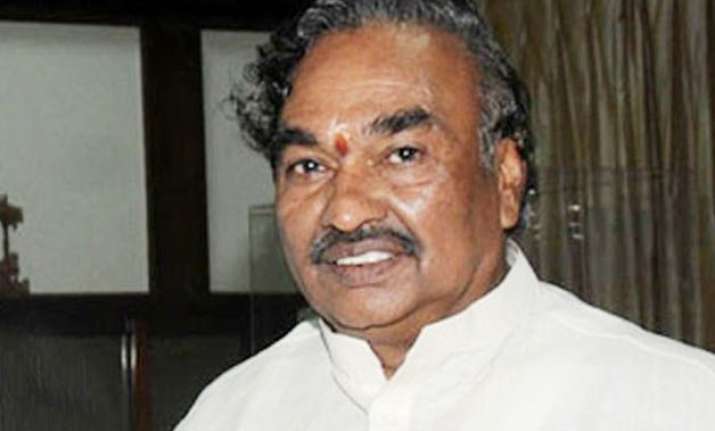 Bengaluru: Senior BJP leader K S Eshwarappa, a former Karnataka Deputy Chief Minister, was in the eye of a storm today over his poser to a woman journalist on what Opposition parties can do if "someone drags and rapes" her with his remark condemned as "irresponsible".
As his controversial remarks put him in a spot drawing criticism from the media, political parties and various organisations, Eshwarappa went into a damage control mode, saying his comments had been wrongly projected by the media.
Former Chief Minister and Opposition BJP leader in the Assembly Jagadish Shettar said, "If the statement is actually like that, it is not in a good taste."
A group of agitated journalists even took up the issue with Chief Minister Siddaramaiah seeking action.
Responding to a woman journalist's question if opposition BJP has failed in its duty by not making government accountable for such crimes, Eshwarappa, Leader of Opposition in the state Legislative Council, said "You are a woman, you are here now, if someone drags you and rapes you, we opposition people will be somewhere else. What can we do?"
"You tell me what we need to do, we will do it; ...we have criticised it in the Legislature, when a six-year-old girl was raped I used all sorts of language that I had to, you people objected to my language...," he said at Ramanagara, near Bengaluru.
Later clarifying, Eshwarappa said he was "surprised" by the way media is depicting what he has said.
He said "The woman journalist is also like my daughter; people know that Eshwarappa and BJP have been fighting against such acts of violence against women, and we regard women as mother."
"I was only trying to point out that there is a situation in the state where any woman can be raped anywhere, but not that she (the woman journalist) has to be raped. I'm being quoted out of context and it has pained me."
Calling it "irresponsible" comments, Chief Minister Siddaramaiah said "when has Eshwarappa spoken with seriousness, he always speaks like this."
Sharply reacting to Eshwarappa's comments, Bangalore Reporters' Guild in a statement called it an "insult" to women community at large. It said such comments were not expected from a senior politician like Eshwarappa.
Karnataka State Mahila Congress has organised a protest in the city tomorrow condemning Eshwarappa's comments.