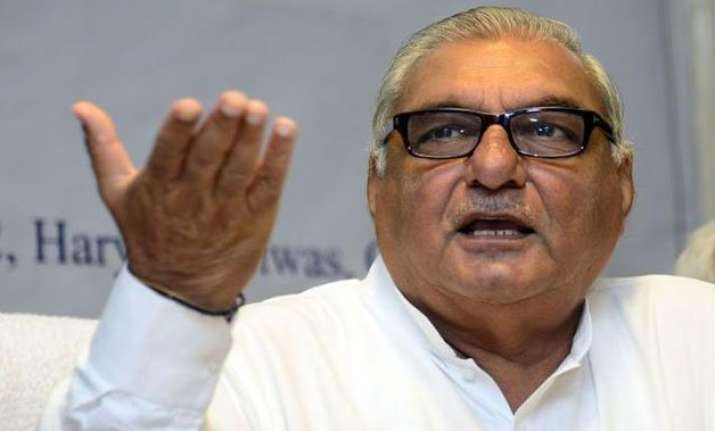 Fatehabad: Hours after Haryana government released a white paper on state finances highlighting discrimination in allocating resources by previous Congress regime, Former chief minister Bhupinder Singh Hooda today described the document a "bundle of lies." "It's (white paper) nothing, but a bundle of lies," Hooda said here.
The BJP government in Haryana is trying to hide its own failures by targeting the ten year rule of Congress, the two time chief minister, whose party could win only 15 seats at the last hustings, he said.
"In the last ten years our government made a record of development to which the opponents are terming as unbalanced progress just for the sake of criticism," he said.  Earlier in the day, Chief Minister Manohar Lal Khattar and Finance Minister Abhimanyu released the white paper in Chandigarh on Haryana's finances pointing alleged discrepancies on fiscal fronts during the previous Congress regime.
All the districts witnessed equal development during Congress regime, Hooda added.
"In per capita income Haryana had become number one in the country, but now it is lagging behind just in five months," he said.
Lambasting the state government, the former chief minister said, "the work of police is to maintain law and order situation, but it is engaged in distributing urea and fertilisers in the state".
The farmers and their spouses are compelled to go to police stations for agricultural inputs, he said.  Hooda demanded the state government should pay Rs 15,000 per acre as compensation to the farmers whose crops have been ruined in natural calamity.
The Food Corporation of India should purchase the wheat of the farmers, he said.
"This government can not introduce new work, therefore, the work done by us must be maintained by it. It is quite strange that the ministers of the BJP government are tweeting against their own government instead of discussing the issues with the chief minister," he said referring to the tweet row between cabinet minister Anil Vij and Khattar recently.  The petro rates must be slashed keeping in view the plunge in international market, he said.  Hooda denied any infighting in the Congress in the state.