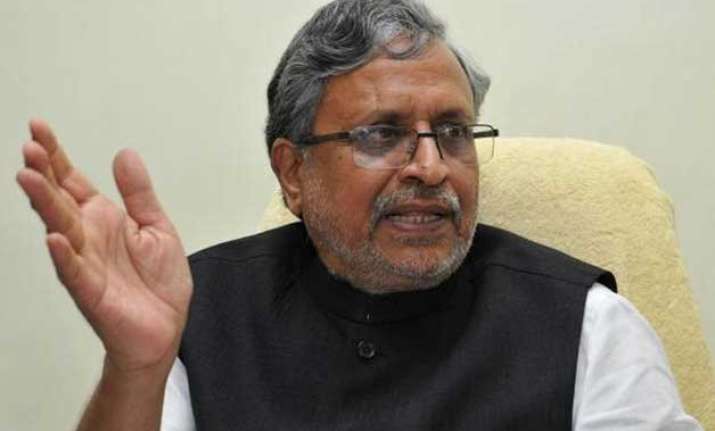 Patna: A day after Bihar government rubbished his charge of irregularities in transformers' purchase and threatened to take lawful action against him, former Deputy Chief Minister Sushil Kumar Modi today reiterated his demand for a probe by the CAG and dared it to proceed against him as per law.
"It appears that the state government has got rattled after I unearthed a scam of Rs 37 crore in transformers' purchase going by the manner in which it has threatened to lodge a case against me instead of ordering a probe in the alleged scam," the senior BJP leader said in a statement.
"I dare the state government to lodge a case against me," Sushil Modi said and defended his charge about a scam in transformers' purchase.
He alleged that the state government had purchased transformers and other electric equipments costing Rs 96 crore from suppliers without floating a tender for replacement of transformers and related works in the districts under the Rajiv Gandhi Grameen Vidyutikaran Yojana (RGGVY) in 2015 and justified the purchase under the cover of bids floated in 2012 on turnkey basis for which no supplier had participated.
Reiterating his demand for a probe by the CAG in the alleged scam in transformers purchase at arbitrary rate, he asked the state government to immediately stop all transformers' replacement works till pendency of the probe.
Sushil Modi's rejoinder came a day after Bihar Energy Minister Bijendra Prasad Yadav had trashed allegation of irregularities worth Rs 37 crore in replacement of transformers under (RGGVY) in some districts and accused the senior BJP leader of "deliberately putting spanner in development work."
Slamming Modi for making 'baseless' allegation on transformers' purchase with a "malicious intention", Yadav issued veiled threat to the BJP leader saying that such canard could warrant lawful action.
The Minister, at the same time, said that if the former deputy CM backed his allegation with evidence the state government would not hesitate to order a vigilance probe in the matter.