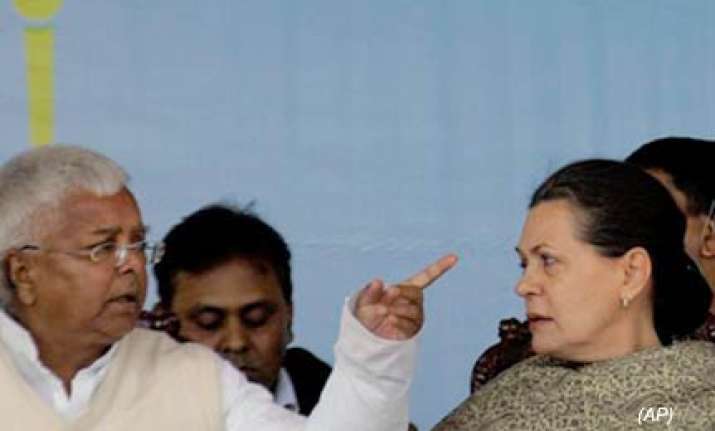 Unable to make their point over Women's Reservation Bill during the business hours, proponents and opponents of the legislation on Thursday used the adjournment periods in Lok Sabha to convince each other about their views.
As the Lok Sabha was adjourned at 11.40 AM for 20 minutes following uproar by members of SP, RJD and JD-U, who are opposed to the bill, hectic activities were witnessed in the House.
Members from various parties were seen approaching those of others to convince them about their points of view on the bill that has already been passed by the Rajya Sabha and is to be introduced in the Lok Sabha. Clusters of members, cutting across party lines, were seen holding consultations.
RJD Chief Lalu Prasad and Samajwadi Party President Mulayam Singh Yadav walked up to UPA Chairperson Sonia Gandhi, apparently to persuade her not to press the bill.
Gandhi was joined by Leader of the House Pranab Mukherjee and they together tried to convince the opponents to give up their resistance.
 "Aap inki baat suniye (listen to him)," Gandhi was heard telling Prasad and Yadav while pointing towards Mukherjee.
Trinamool Congress President Mamata Banerjee, whose party did not participate in voting in Rajya Sabha in protest against the bill, also joined them and was significantly seen as acting as a mediator.  She goaded Prasad to tell his point of view to Gandhi.  Later, JD(U) Chief Sharad Yadav also joined the parleys and told Gandhi about his reservations against the bill.
Leader of Opposition Sushma Swaraj, whose party is for the reservation of women in Lok Sabha and state assemblies, was seen talking to RJD and SP members, apparently asking them not to oppose the measure and allow the House to function. At this, RJD leader Raghuvansh Prasad Singh lost his cool and accused BJP of acting as a "broker for the government".
 "Yeh Rajya Sabha me pass karwa ke aaye hai...Kya sarkar ki dalali ke liye vipaksh hai (they have come here after getting the bill passed in Rajya Sabha...is the opposition here as a broker of the government?" he said. He asked loudly whether convincing the parties opposed to the bill was job of BJP or that of the government.
Singh expressed anguish over the fact that seven members of Rajya Sabha were still under suspension.
 Soon afterwards, Swaraj and other senior BJP leaders Rajnath Singh, Ananth Kumar and Gopinath Munde huddled around NDA Working Chairman L K Advani to discuss the issue. BJP Chief Whip Ramesh Bais, who is reportedly against the bill, watched from a distance.  PTI
 Advani, along with Rajnath Singh, later tried to convince JD(U) member Rajiv Ranjan Singh "Lallan" and others about the bill. Later Advani walked out of the House alone.
 When the House re-assembled at 12 PM, it was adjourned within minutes following uproar again.
After the adjournment, Yogi Adityanath, another BJP member opposed to the bill, was seen going towards Mulayam and some discussions ensued. He then talked to RJD and SP leaders before joining his party members.