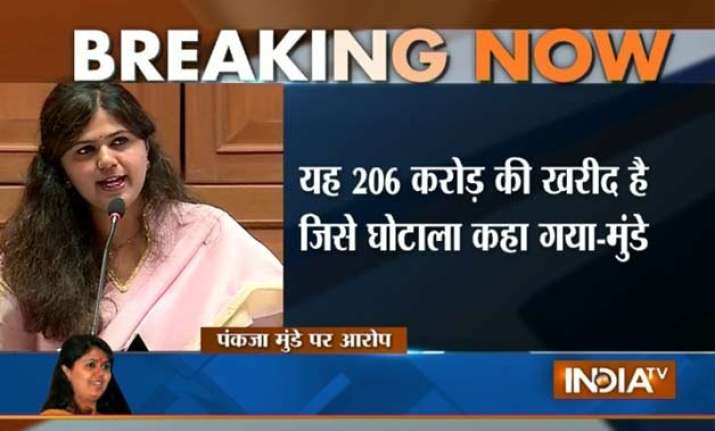 Mumbai: Maharashtra Minister Pankaja Munde, who is under fire for allegedly flouting rules in awarding contracts worth Rs 206 crore, today said that she has not done anything wrong.
Clarifying her stand on what has come to known as  'chikki-scam', she said, "I was on leave when the accusations were made. This is just a purchase of Rs 206 crore, the word scam was added later."
Pankaja, Women and Child Development Minister in BJP government, said she has done nothing wrong and would not resign.
She said, "I have come here after 56 hours of study. I gave clarification to the newspaper that first published the report."
"The opposition leader in legislative council Dhananjay Munde gave the file to Chief Minister on 20th and then I clarified my stand," Pankaja added.
She added the contractor has been working since the Congress' period and she did no favour to him.
The daughter of deceased BJP leader Gopinath Munde, Pankaja said, "I told CM I am ready to accept whatever decision he takes. I am ready for all enquiries. The day it is proved that I was wrong, I will resign."
Pankaja was in London when she came under the cloud of allegation for clearing contract worth Rs 206 crore for purchase of a host of items under the Integrated Child Development Scheme.
She allegedly cleared purchases through 24 Government Resolutions on a single day instead of inviting tenders.
Yesterday, on her return from London, she said it was a conspiracy to defame her. While addressing her supporters at Mumbai Airport, she said, "I will expose the conspiracy against me with your trust and support."