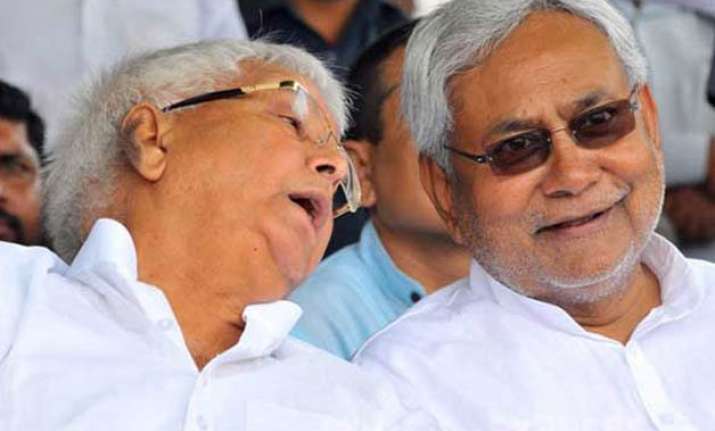 Patna:  With BJP trying to capitalise on Prime Minister Narendra Modi's visit to Bihar during which he is expected to announce several projects as part of special package for poll-bound Bihar, Chief Minister Nitish Kumar today said BJP was trying to show as "gift" all the projects initiated by him and approved by previous regime.
"People of Bihar are indebted to the PM for remembering the state, 15 months after becoming the PM," Kumar said while addressing a function at the anniversary function of former chief minister Satyendra Narayan Sinha.
Kumar said he would be waiting to see the announcements made by the PM at his Muzaffarpur rally on July 25 which BJP would seek to capitalise in the coming Assembly election.
"I am waiting to see whether the PM announces something new in the economic package he is expected to unveil or merely package the ones started earlier," he said.
Kumar described BJP as "Bharatiya Jumla party" and said the saffron party was trying to show that all the projects that would be announced by the PM were their "creation."
He said the IIT Bihta which the PM would inaugurate during his visit on July 25 was possible due to his sustained initiative.
"It was I who put pressure on the then Prime Minister Manmohan Singh not to let the IIT go to South India and provide it to Bihar who agreed," he claimed.
The state government provided 500 acre of land for the IIT at Bihta.
Likewise the Haldia to Jagdishpur gas pipeline whose work the PM is expected to start during his visit was approved during previous UPA regime.
The Daniyawa-Biharsharif Railway line which PM is expected to announce was also his initiative, Kumar said.
RJD President Lalu Prasad who was present at the dais launched a blistering attack at BJP.
He said to stop BJP finally enter Kolkata he joined hands with Nitish Kumar and other secular forces to stop them in Bihar itself.
"BJP which has been raising several slogans ahead of Bihar poll aims to make Bihar a Gujarat," Prasad said.