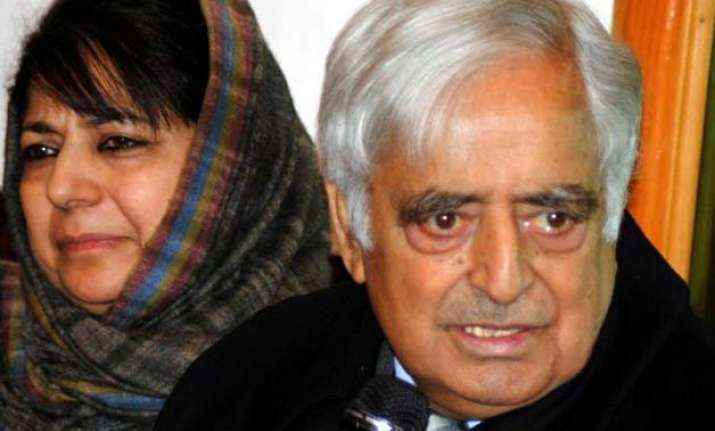 Srinagar: There are no visible signs of government formation in Jammu and Kashmir even as the Governor's deadline for political parties to come up with a concrete plan for government formation ends today.
The main reason behind the continuing deadlock is the reluctance of two major parties, namely PDP and BJP, to budge from their rigid stands on contentious issues like Article 370, Armed Forces Special Powers Act (AFSPA), delimitation issues and the chief minister's tenure.
PDP has sought assurances from BJP on these contentious issues but the saffron party is reportedly worried over the backlash that it may have to face if PDP's demands are conceded.
After meeting Governor N N Vohra two days ago, PDP patron Mufti Mohammad Sayeed had said that his party is still awaiting BJP's response on the assurances.
"Obviously, government formation has been discussed by our party leader... There are certain issues on which the PDP needs assurances from the BJP. Once we are satisfied on that count, a new dispensation will be in place," said Mufti.  
The BJP, on the other hand, is keen to participate in the new government as it has emerged the second largest party in Assembly elections.
"At one time, we could never cross 12 seats in the assembly. But this time, we have won 25 seats. Because of the unusual political situation, we could not form the government but the results show that no government can be formed without us," BJP President Amit Shah had told party workers a few days ago in Delhi.
The upcoming Rajya Sabha polls on February 7 have forced the two biggest parties to expedite negotiations.
Expressing the hope that a new govt will be in place in the state by Feb 7, PDP spokesperson Nayeem Akhtar said in Srinagar, "The upcoming Rajya Sabha polls are going to force the pace of talks with the BJP for government formation and a new dispensation is likely to be in place by the day of voting on February 7."
The Rajya Sabha polls will decide the fate of Ghulam Nabi Azad, leader of Opposition from the Congress in the Upper House.
The results of the assembly elections threw up a hung assembly in Jammu and Kashmir with the PDP emerging as the single largest party bagging 28 seats in the 87-member house. The BJP came close second with 25 seats while National Conference bagged 15 seats followed by Congress with 12 seats and others winning seven seats.
No party or combination of parties has staked claim for government formation in the state so far.
Governor's rule was imposed in the state on January 8, a day after former chief minister Omar Abdullah asked Vohra to relieve him of the caretaker responsibilities with immediate effect.