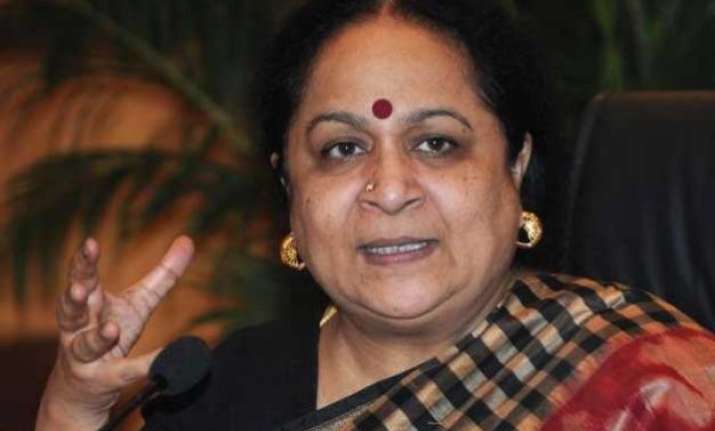 New Delhi: In yet another embarrassment to the Congress party, former union minister Jayanti Natarajan has written an angry letter to Congress President Sonia Gandhi explaining how she was humiliated for 11 months by none other than party vice-president Rahul Gandhi himself.
Natarajan is likely to resign from the party today. She is likely to address the media at 12:30pm in the afternoon.
In the letter to Sonia Gandhi, Natarajan says that her "entire career is ruined" and that the "sacred and venerable" legacy of her family also "stands in danger of being tarnished".
"I want to place on record, that from December 20, 2013, until now, I have still not been told by you, why I was asked to resign from the Council of Ministers, nor have I ever been asked or given an opportunity to explain, if indeed I had committed any wrongdoing. On the other hand, the then Prime Minister Dr. Manmohan Singh wrote a letter to me, accepting my resignation, in which he praised the excellent work I had done as Minister, and what he termed my valuable contribution as minister," Natarajan has written in her letter.
Natarajan, in her letter, has accused Rahul Gandhi of publically humiliating her on the issue of her resignation.
READ ALSO: Read full text of Jayanthi Natarajan's letter to Sonia Gandhi
She recalls her discussion with the then PM Manmohan Singh over her resignation but to her disbelief, Rahul Gandhi told over dozens of mediapersons and businessmen at the FICCI coference the very same day that she resigned.
"The next day my resignation was headlines in the media, and all the initial reports correctly reported that I had stepped down for party work.
By the afternoon, to my shock, I received information that persons from the office of Shri Rahul Gandhi were calling the media and planting stories that my resignation was NOT for party work," says Natarajan.
Natarajan clarifies in the letter that she was "never a bottleneck", nor was she "ever responsible for unwarranted delays in major projects". She asserts that she can "prove this at any time".
The former union minister , in her letter, further accuses Rahul of not allowing her to meet Sonia Gandhi.
"You may wonder why I write to you now, which I have decided to do after 4 months of prayer and contemplation. I wish to record that I tried several times to meet Shri Rahul Gandhi and you, but was not given an appointment. During our last meeting, and only meeting after my resignation, you instructed me to avoid the media. Until today I have followed your instructions. Just two days ago, Shri Vasan left the Congress and formed his own party. It was only on the day before Shri Vasan left, that I received my first ever communication from AICC in the form of a telephone call from Shri Motilal Vora, who wanted to know what my stand was regarding Shri Vasan, and what my future course of action would be," adds Natarajan in her letter.