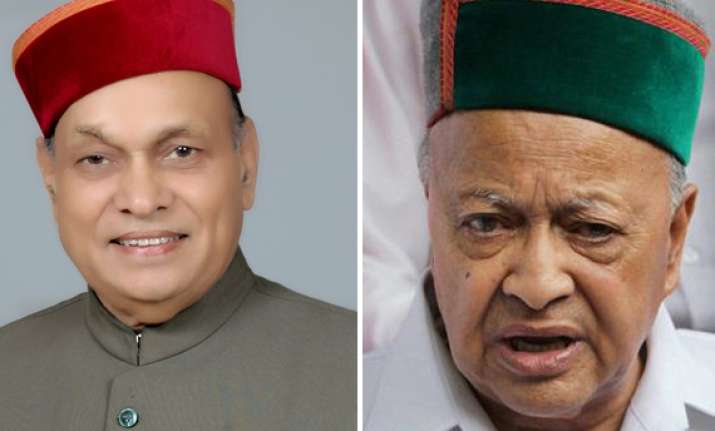 Shimla, Nov 4: As Himachal Pradesh goes to the polls for its 68 assembly seats today,  all eyes are on political stalwarts who are fighting it out on new turns.
The heavyweights are Congress leaders Virbhadra Singh and Vidya Stokes and BJP's Chief Minister Prem Kumar Dhumal, former health minister Rajeev Bindal and Public Health Minister Ravinder Ravinder Ravi. 
While Virbhadra Singh's bastion Rohru in Shimla district and Bindal's Solan have been reserved for the Scheduled Castes after delimitation, Dhumal's stronghold Bamsan, Ravi's Thural and Stokes' Kumarsein seats have been axed. 
Singh, Dhumal, Stokes, Bindal and Ravi are now contesting from Shimla (Rural), Hamirpur, Theog, Nahan and Dehra constituencies respectively. 
Five-time chief minister Virbhadra Singh, 78, is fighting a "survival battle" this time. 
Popularly known as 'Raja Saab', Virbhadra Singh is seeking votes in all the constituencies, except in his seat where his son is the star campaigner. 
Political observers say it's a do or die battle for Virbhadra Singh. 
"If he manages to bring the party back to power, he will manage to silence his critics and re-establish his credentials as a charismatic leader. Otherwise he will be marginalised," a party insider said. 
For Dhumal, it is prestige that is at stake, not his career. 
"If the BJP loses, he can say people voted him out as Himachal voters generally keep changing government," said a supporter. 
Dhumal, a decade junior to Virbhadra Singh, is known as an easily accessible person. 
This elections' focus is also on Kangra district, the largest in the state with 15 seats. This district is currently dominated by the Bharatiya Janata Party. 
Both Virbhadra Singh and Dhumal have been camping aggressively in Kangra. 
"The Congress has the upper hand in bigger districts like Kangra, Mandi and Shimla while in the remaining nine districts the fight between the two is neck and neck," said a political observer. 
Even the Himachal Lokhit Party (HLP), formed under the leadership of BJP rebel and four-time former MP Maheshwar Singh, and the CPI-M are giving a tough fight to the Congress and the BJP in five constituencies: Shimla, Kullu, Palampur and Jaswan Pragpur. 
Both the HLP and the CPI-M are jointly contesting the elections. 
Some BJP and Congress rebels are playing spoilsport. 
Virbhadra Singh believes the damage from the rebels would be more on the BJP than his party. "We are comfortable," Virbhadra Singh told IANS. 
Dhumal is equally relaxed: "I will take rest only after 'mission repeat' (to bring the party again to power)." 
In 2007, the BJP won 41 seats, the Congress 23, the Bahujan Samaj Party one and independents three. The BSP legislator later joined the BJP.