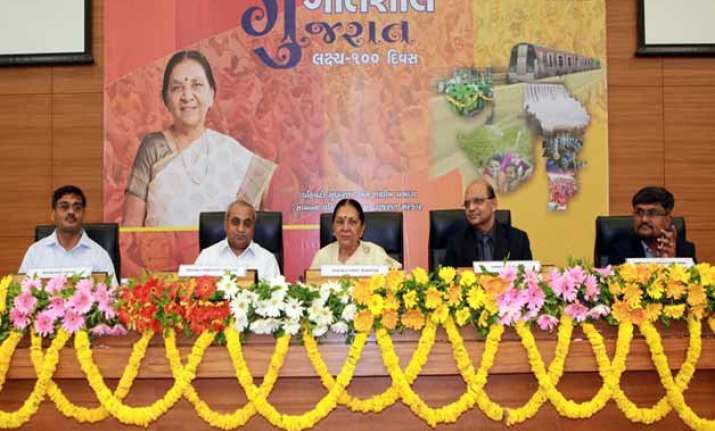 Ahmedabad: Gujarat Chief Minister Anandiben Patel wrote in her blog today, on the eve of her government completing one year, that her inclusive and sustainable development effort is a huge success.
"I took charge as the CM (Chief Minister), when there was a 90-day code of conduct (due to Lok Sabha polls) across the state, which had stalled many development works," Patel, who was sworn in as Gujarat Chief Minister on May 22, 2014, wrote in her blog.
Patel took over charge from former Gujarat Chief Minister Narendra Modi.
"There was a need to bring the administration back on track, with time-bound target achievement and that is when I sowed the seeds of 'Gatisheel Gujarat' campaign, for Gujarat's inclusive and sustainable development," Patel wrote.  
"It began with a 100-day target and then as a 150-day target. These campaigns were a huge success and fully served their purpose," said Patel, who coined the term 'Gatisheel Gujarat' for administrative work," she wrote in her blog.  
"Now this campaign has become an institutionalised mechanism for the state to grow and prosper. More than just a mechanism, today 'Gatisheel Gujarat' has become a new identity of our state; enhancing the momentum in the direction carved out by Narendrabhai (Prime Minister Narendra Modi) during the past 13 years," Patel wrote.
"The past one year is just a milestone in this journey and you all, we all; are together in this! During this one year, many initiatives, decisions, announcements, policies took shape in Gujarat covering varied sectors and people from all strata of society," Patel wrote.
Patel also wrote that her achivement of making women fearless, instilling confidence in youth and empowring farmers satisfied her the most.
"May 22, this day last year, I was privileged to get the opportunity to serve 65 million people of Gujarat as Chief Minister of the state," Patel wrote.
"Today, as I look back at the year gone by, what satisfies me most are glimpses of fearlessness in the eyes of women, confidence in the youth and empowerment of farmers, which I witnessed along this journey," Patel wrote.