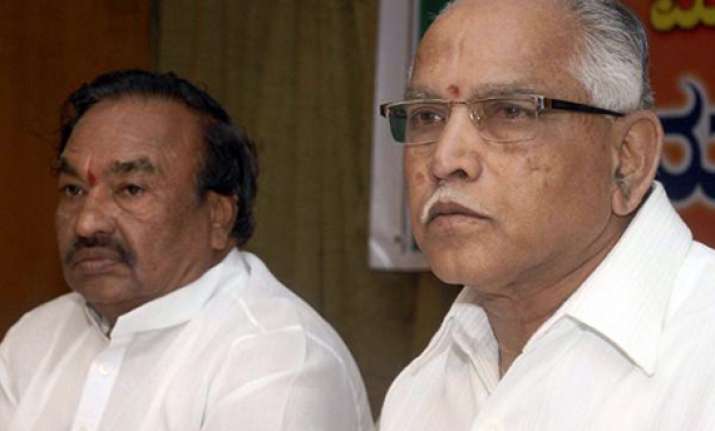 Bangalore, Dec 29: The leadership tussle in Karnataka's ruling BJP worsened today as former Chief Minister B S Yeddyurappa charged state unit chief K S Eswarappa with trying to oust him from the party and being responsible for sending him to jail.

"Ever since Eswarappa assumed office, he has been making statements branding me as guilty. He is not content with my ouster from the chief minister's post, but is also trying to throw me out of the party," he told reporters here.

His outburst comes a day after Eshwarappa accompanied Chief Minister D V Sadananda Gowda to Delhi to meet party top brass and reportedly sought their intervention to checkmate Yeddyurappa's attempt to return to power.

"I have not begged anyone to make me chief minister again or appoint me state unit president. The high command will look into these demands. But Eswarappa has been regularly making statements as if he is the BJP high command," he said. 

Yeddyurappa had yesterday held a meeting here with his supporters, including half a dozen ministers and asked them to mobilise support of at least 70 MLAs, sources close to him said.

The former chief minister, sulking since his removal from the top post in July after the Lokayukta indicted him in its report on illegal mining, also said he would soon undertake a state-wide tour and announce future plans after January 15. 

Yeddyurappa accused Eswarappa, also from his home district of Shimoga, of hatching a conspiracy and being responsible for him going to jail for 24 days.

"Eswarappa is not content even after sending me to jail for 24 days. He has been stating that as long as I come clean from all the charges, no position can be given to me. Such statements do not befit the position he holds and is certainly not in the interest of the party," he said.