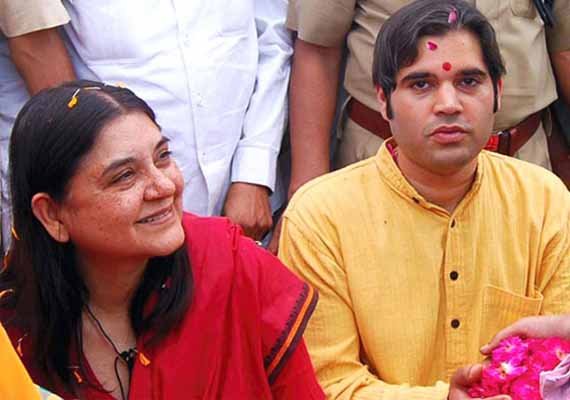 New Delhi: Senior BJP leader Maneka Gandhi today once again pitched to bring her son Varun at the forefront of the BJP in UP.
Commenting on the by-poll results, Maneka said that  Varun Gandhi must now be brought back to the forefront of the party to handle UP elections. Her statement came a day after BJP faced a major setback in the recently concluded bypolls.
Maneka Gandhi's jibe has been welcomed by some BJP Parliamentarians in UP.   
A BJP parliamentarian from UP said that the party should "use leaders like Varun" as it is missing young, dynamic faces in the most politically vital state.
BJP's Bijnore MP Bhartendra Singh, an accused in last year's Muzaffarnagar riots, said, "Ever since Rajnath Singh moved to the Centre, we don't have a face in UP. We need to have a strong potential leadership."
The BJP managed to retain only 12 of the 26 assembly seats across eight states for which by-polls were held. But its worst loss was in UP, where the Samajwadi Party wrested eight of 11 seats held by the BJP and its ally Apna Dal.
 
When asked to comment on BJP's downslide after a euphoric national election victory just four months ago, Maneka, who is an MP from Pilibhit in Uttar Pradesh, declined to comment. She however seemed to acknowledge the absence of big faces in the party's campaign, including Varun, as she smiled and said, "Ok then maybe we should bring him back!"
Varun Gandhi was dropped as BJP general secretary by new chief Amit Shah in August.
The party said only one member of a family can hold a post in the party or the government. Maneka Gandhi is Women and Child Development Minister in Prime Minister Narendra Modi's cabinet.
But sources read more into the move, saying that Varun, a parliamentarian from Sultanpur, was sidelined for crossing the line once too often with comments that seemed to question Modi's leadership.